The Attitude WordPress Theme by StrictThemes is a portfolio theme with impressive multimedia options built in to the core. Designed with artists in mind, Attitude provides the perfect infrastructure to showcase your work.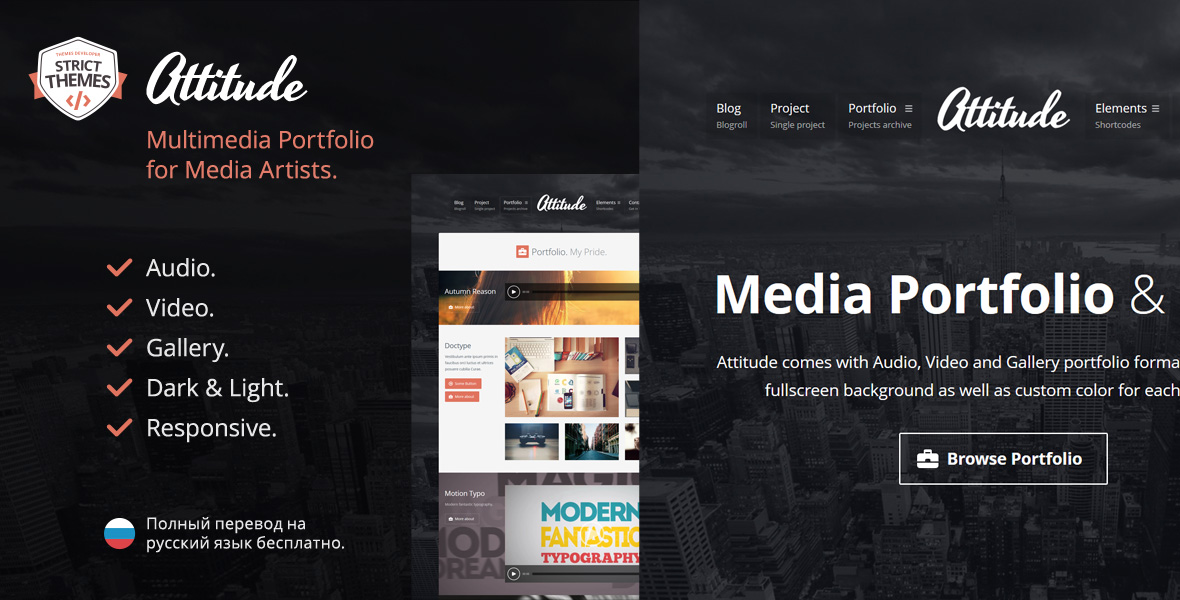 The StrictThemes framework is versatile, easy to work with, and highly intuitive, allowing for deep customization and control.
Portfolio Options
Attitude's emphasis on multimedia is reflected in versatile portfolio options.
The Audio Portfolio option allows you to bring your sounds online and display them in a unique and stylized way. Present your sonic creations as either embedded or self-hosted media.
The Video Portfolio provides an ideal layout for artists working with video to present and share their creations. The video portfolio works with embedded or self-hosted media.
The Gallery Portfolio offers stunning displays, ideal for professional photographers, designers, or architects. The gallery format makes the process of creating a photo portfolio simple and straightforward. Add a gallery and upload your photos without worrying about resizing.
All portfolio formats come with options for a unique fullscreen background and custom colors for each project.
You can set custom slugs for projects, categories, and tags. For example, rather than having site.com/projects, you could have site.com/photography/.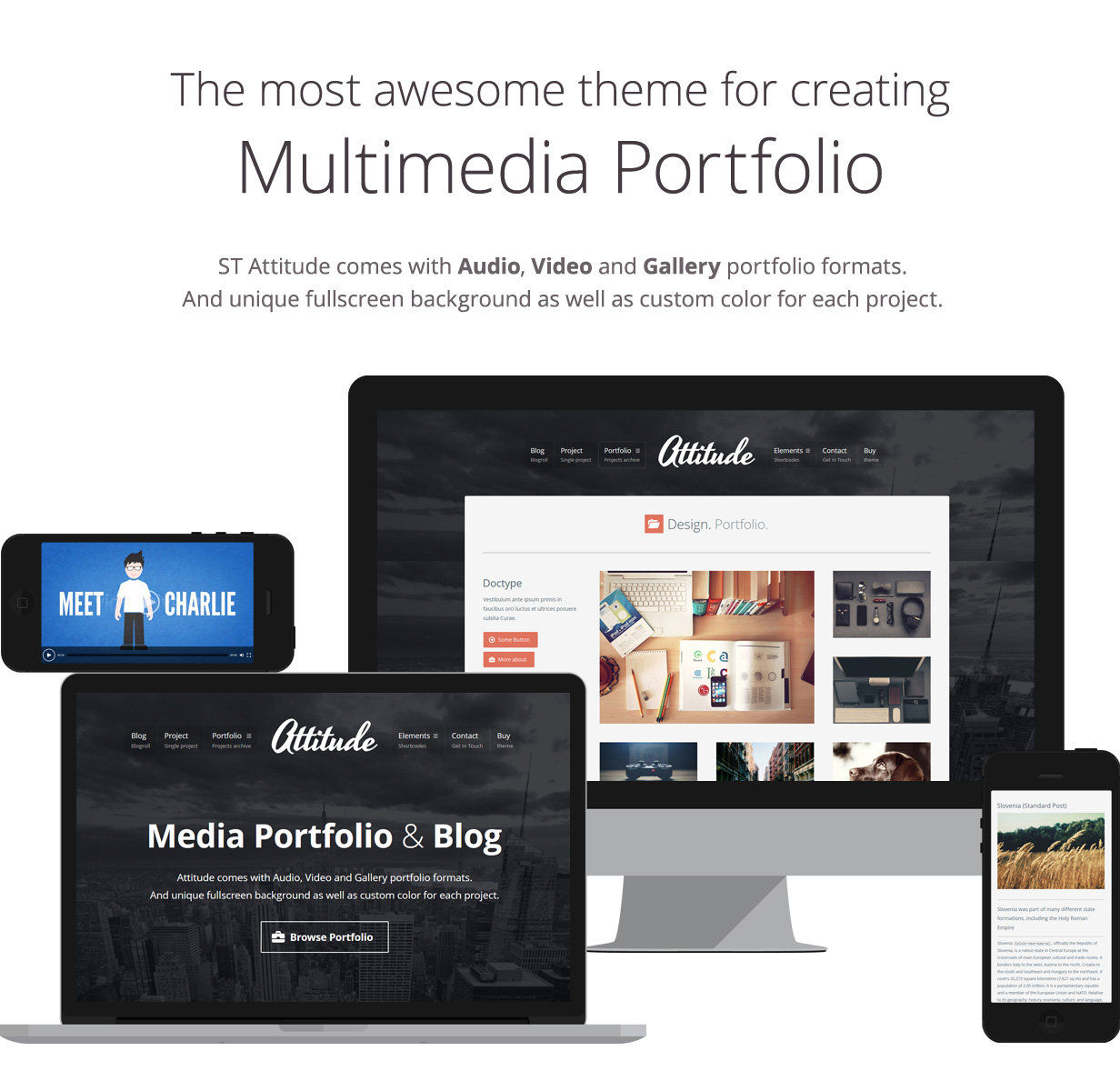 Portfolio Migration Options
If you have an existing portfolio based on Custom Post Types, the ST Kit framework is compatible with post type, category, and tag taxonomies. You can easily migrate your existing portfolio over to Attitude.
Theme Features
Attitude is fully responsive and built with a mobile-first approach to ensure the theme will look great across all devices, from desktops to phones.
HiDPI / Retina Ready. The theme comes with high-quality graphics and is designed to look sharp on high-resolution screens.
The theme comes with default light and dark skins, as well as the ability to customize your color scheme through the theme options panel.
The theme is optimized for translation and includes a .po file with all of the text strings included in the theme, ready for translation.
Custom meta-boxes allow you to easily customize post and page settings.
A versatile Admin panel allows you to adjust colors, fonts, branding, and other elements.
The color-picker allows you to choose primary and secondary theme colors from an unlimited palette.
A visual shortcode inserter makes adding shortcodes extremely easy.
Over 100 stylized icons are included with the theme, with 3 size options.
Attitude is compatible with any of the 600+ Google Fonts
Add custom CSS directly from the theme panel without altering your core files in the Editor
This theme is SEO optimized out-of-the-box
The option to create unlimited sidebars allows for deep customization of posts and pages.
Attitude includes optional custom widgets that can be activated and customized.
Thorough documentation and best coding practices make working with this theme intuitive. The code itself is highly readable, with through comments throughout PHP and JavaScript files.
CSS structure is highly organized and well-commented, making it easy to navigate and tweak.
The theme developer offers free bug fixes. If you find a bug, contact StrictThemes and they should resolve the issue in a timely fashion.
The theme is regularly updated to be compatible with the latest versions of WordPress. One-click updates make it easy to update to the current version of Attitude without having to manually download and install the theme each time there is an update.
Demo content is included with the theme, making it easy to jump in and begin populating a predefined layout with your own content. Of course, if you'd prefer to start from scratch, you don't have to use the dummy data, but the option is available.
Built-in social network icons are included with the theme, eliminating the need for a plugin to sync your social media accounts to your website.
Add your own custom logo and favicon easily from the theme options panel.
Attitude is set up to be ready for Google Analytics. Simply copy and post your Google Analytics code into the appropriate field.
Blog Options
Attitude offers three different blogroll styles, and a wide variety of options for individual posts and pages. Gallery, Video, and Audio blogroll options cater to creative professionals, artists, video producers, musicians, and designers looking to showcase their work. Each blogroll style provides and elegant and contemporary platform designed to present multimedia content.
The theme supports an array of post formats, including Standard, Image, Gallery, Audio, Video, Status, Quote, and Link, with theme-specific styling options for each format.
The gallery format makes it quick and easy to create a gallery post without worrying about image sizing or placement.
Audio and Video formats allow for embedded or self-hosted media files.
The link format allows for redirects.
Below the Post Editor, the Sidebar metabox allows you to choose whether you want a sidebar on an individual post or page. You can choose a left sidebar, right sidebar, or no sidebar. Deeper sidebar customization is available within the theme options panel, as well. For users who want maximum control over flexible, widgetized sidebars, Attitude delivers with flying colors. Rather than being pigeonholed into a site-wide sidebar, users can create unlimited sidebars to populate specific posts and pages, offering a lot of room for personal customization.
The ST framework is preloaded with custom widget options, including Sharrre, Get in Touch, Posts, Flickr, Subscribe, and Social Icons. You can also create your own custom widgets to populate the flexible sidebars in the Attitude theme.
Conclusion
The Attitude theme is an obvious choice for multimedia creators looking to establish an online portfolio. The easy-to-use ST Framework enhances the WordPress Admin experience to make deep customization fast, easy, and intuitive. Elegant Audio, Video, and Gallery formats make the process of setup as easy as uploading or syncing content. Attitude's fully responsive layout and eye-catching design is a perfect springboard for creators hoping to present their work without touching a line of code.
The theme relies heavily on the ability to customize sidebars using widgets, which offers the potential for personalizing individual posts to feature specific sidebar content.  For users who have felt restricted in the past by site-wide sidebars, Attitude will be a welcome change of pace.