Despite the pervasive spread of the Internet, all business remains local in many respects. Today, companies are discovering the value of geo-targeting prospects and customers via geo-location technology for their online advertising.
Google and Yahoo with their Pay-Per-Click search engine-based advertising models offer advertisers the ability to deliver targeted digital advertising based on the location of their website visitor's IP address.
Many businesses are using geocoding technology to serve up more relevant digital content to their online visitors. Others are using it to create better relationships with their website visitors and to enhance customer satisfaction and thus retention rates. Offering more relevant content to website visitors is enabling online retailers to reduce and in many instances prevent website and transaction abandonment rates.
What Is Geocoding And Why Should You Care?
Geocoding is usually a two-part process. Firstly, it involves converting an address into spatial data. Secondly, it associated those precise geographical coordinates with other data sets.
In our always-on digital economy, geospatial data is all around us. Whether it is Google Maps and weather reports or Uber, DiDi and Deliveroo driver locations, store locations, geotagged tweets and airline routes businesses now have the opportunity to tap into a growing stream of data.
Increasingly, geocoding is critical for marketers in targeting specific demographics. Linking latitude and longitude coordinates to demographic census track data assists marketers to fine-tune their targeting approach ensuring their message is pointed at the core demographics of the audience who is most inclined to respond to their content, marketing message or product or service offer.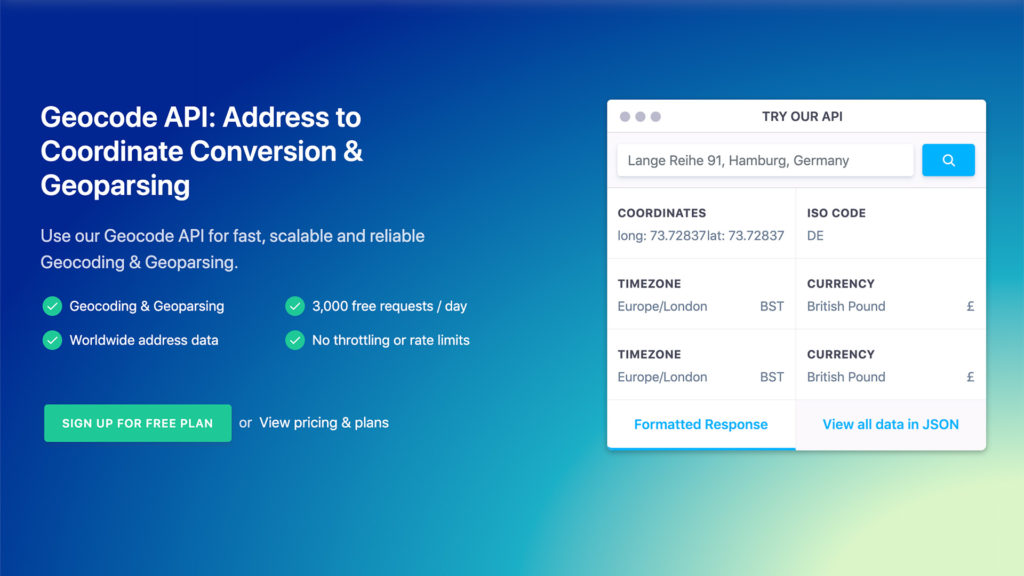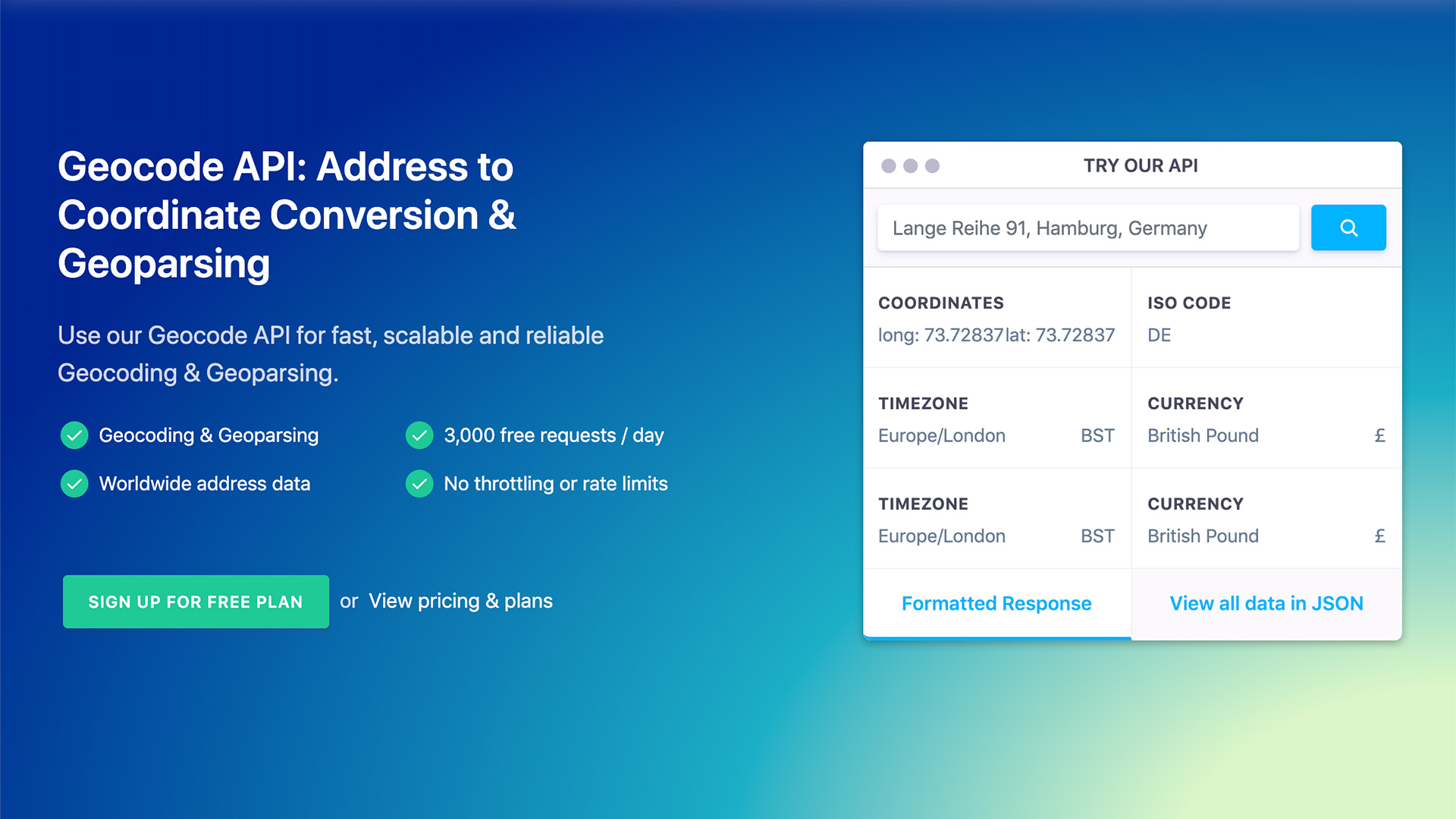 Geocodeapi is assisting businesses to leverage geocoded data to identify prospect catchments, clarify their store proximity to potential customers, look at the distance to suppliers and competitors, assess the viability of service areas and delivery driver route efficiency.
What Business Wants From A Geocoding API
Accuracy, reliability and speed are amongst the key requirements for businesses looking for an effective solution to their geomapping requirements, which also include:
Accuracy
Reliability
Speed
Validation
Documentation And Technical Support
Price
Geocodeapi
1. Accuracy
In driving results, accuracy is a key metric. However, not all geocodes are the same. Typically, geocodes are either created by: 1. Physically going to an address and recording its GPS location or 2. using a mathematical formula to interpolate the position. Hence, Accuracy often implies a trade-off between "rooftop level" precision and service cost.
Test Results: Geocodeapi will take you right to an address's doorstep.
2. Reliability Or Uptime
Uptime or reliability is a measurement of a system's availability to its clients. Users can't always predict when they may need to tap into the service. Thus the service should be continuously up and available. Infrequent clients may be in a position to accept a geocode service that lacks reliable uptimes. Frequent customers require reliability guarantees via a Service Level Agreement or SLA guaranteeing uptime that delivers or even exceeds a stated threshold.
Regular users of geocoding APIs look for a system that guarantees not to be down when they come to access it and delivers against that promise. In our time-poor highly competitive environment, a geocode API with solid, reliable uptime is mandatory.
Test Results: Geocodeapi guarantees 99.9% Uptime in its SLA
3. Speed
Once move beyond hardware constraints and connection speed limitations, geocoding users can come up against techniques, which limit the speed of your geocoding experience. These can range from throttling based on 'requests per second' and 'requests per day' limitations, to the presence or absence of batch processing through to your service provider's infrastructure capacity. The combined effects of these constraints are to reduce the speed your geocodes are displayed to you.
Geocodeapi has built its systems to cope with high volumes of requests. It doesn't throttle customer volumes because they don't need to. Whether you are pumping 5,000, 50,000 or 100,000 requests through Geocodeapi per month doesn't impact their response times.
Test Results: Geocodeapi seems to process 100,000 addresses as if they only 10,000!
4. Validation
Address validation is a process that compares a mailing address against a mailing database. If the address matches an active mailing address on file, the address is validated, confirming it as a real address. This helps ensure your data is accurate and that incorrect addresses haven't accidentally found their way into your database. This can be important if you are sending an item to that address by delivery service, courier or by mail.
Test Results: Geocodeapi currently validates their addresses.
5. Documentation And Technical Support
One often-overlooked factor in selecting a geocoding partner is how easy a geocoding API is to work with when a problem occurs. Great technical support can help resolve issues speedily and effectively. Clear documentation can fast-track onboarding and assist in both preventing issues from emerging and to resolve the most common problem on the fly DIY-style. Some providers are great in this area, while others have clearly directed their resources into other areas.
Test Results: Geocodeapi provides solid documentation and a useful Help function. All Support tickets are guaranteed to be answered within one business day.
6. Price
Price is often the deciding factor in choosing a geocoding service provider. Beware; you get what you pay for! Look for a geocoding service that caters for a range of needs and volumes. Geocodeapi provides a broad range of service packages based on volumes.
Test Results: Geocodeapi offers five pricing packages starting from free and billed annually.
Why Not Simply Use An Open-Source Geocoder?
Some businesses have explored using open-source geocoder APIs. Inevitably, you get what you pay for and three recurring problems have surfaced in connection to open source geocoding APIs:
Infrastructure intensive process
Operationally, very labour intensive
Not scalable
Combined, these limitations negate the initial price advantage by incurring significant resource and time costs.
Geocodeapi vs. Google Maps API Pros
A baseline performance comparison of Geocodeapi versus the Google Maps API produced the following findings:
Performs geoparsing and geocoding at scale
Supports geocoding and reverse geocoding
Very affordable
Easy to use
Privacy controls ensure your data isn't exposed to Google
Cons
SLAs not available to small volume users
Final Observation
Not only is the volume of geospatial data growing, but also the range of emerging data streams continue to expand, be it via smartphones, social media, wearables and car GPS data and transport network flows.
Organizations opting to harness the power of Geocodeapi's service to mine their data have the potential to leapfrog competitors and tap into new market segments as they emerge.