SEOBase is an online reporting and tracking service that shows online business owners and web managers the fruits of their labor through metrics regarding online visibility and practicality. Using data reports with information about the most common keywords, website traffic maps to determine organic growth, and more, SEOBase is an amazing tool for any online-based business. With competition in the online world ever-growing, the most effective way for any business to make its way in the world is to be as prepared and informed as possible.

During the era of COVID-19, it's now more important than ever to have a stable and established online presence. The private and public sectors of the internet contain a ton of helpful information that can be used to bolster any business looking to break through into the online realms. As time goes on, new developments erupt from needs brought forth by public sources, and it's important to keep up with trends. Because of this, web managers are putting time and effort towards their presence on social media, specialized websites, and focus that much more on visibility in the big picture. Because online services are such a blossoming front, the need to track and use information efficiently is an essential part of any good online business practice.
The ability to cater to a user need and expectation is among the most important factors of online business. Competition is now a daunting challenge in new and even established businesses. The need to rise above is higher now more than ever. Having the know how and the grit to set yourself apart using what you know about your product or service, as well as what you know about the audience being targeted can change the course of your online efficiency.
That's where SEOBase comes in.
SEOBase in a Nutshell
As discussed, SEOBase is a complete web-based data tracking and reporting program that documents critical information for personal and business use with practical implications for online promotion and growth.
Recognizing that growth comes from data, SEOBase is driven by the collection of life-changing potential based information to help determine where a business' baseline might be, where points for growth can be found, and where changes for the better can be made.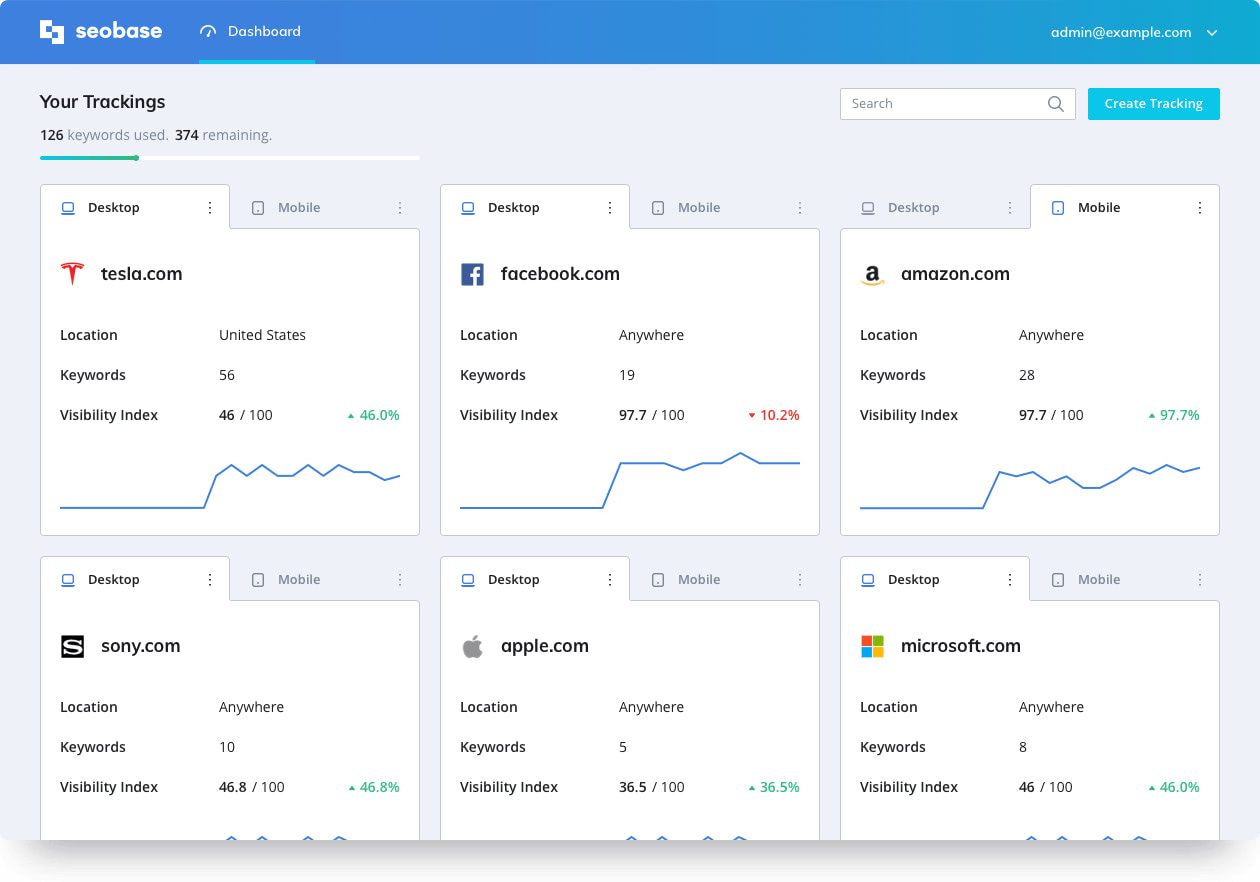 For this purpose, SEOBase packages include up to 5 incredible features for their subscribers to use. All included features are meant to optimize the traffic of websites involved, promote organic traffic and isolate current traffic sources to determine potential for future growth.
Features of SEOBase
The features provided by SEOBase include options for tracking data through comprehensive reports about the growth and potential by which your online business can thrive.
1. Rank Tracking
Rank tracking is a feature which centers around metrics gathered from search engine performance. In lamemens terms, rank tracking provides a means to compare how often your business or website comes up in a common search. This feature has the option to differentiate between desktop and mobile traffic, making it that much easier to determine what can be changed to positively boost your business online. This feature is specific to visibility, and the timeframe option allows the user to follow trends in usage to better navigate trends in data.
2. KeyWord Management
Having much to do with the organization of data, Keyword tracking and management is a means of keeping an eye on performance of specific words in a search function. The metrics gathered through this feature can make it easier to determine better keywords to boost visibility and performance of your website. Depending on your level of subscription, you can add new words to track as time goes on. This feature also includes volume history and ranking URLs, which provides extra information based on what competitors that specific keyword may have.
3. Tag Management
A collaborative feature with Keyword management, tags pertain to organizing keywords by type. The ability to do this can really help keep the entire process of keyword tracking as simplistic as possible, while providing as much information as possible. Colored tags provide the ability to easily recognize types of keywords, trends in data for those types, and activity centered around the tag.
4. User Management
Based on subscription type, as a business account you can employ a team of users to help manage your product. Because these teams are limited, being able to manage and specify roles within your team allows for a much more streamlined and worry-free experience for management.
5. Easy Reporting
Information provided from all of these features can be tough to view individually, so SEOBase also provides an easy to understand reporting program that grants the user full control over sharing and report scheduling. Data reports can be churned out at a daily rate, on a weekly basis, or monthly depending on the user's needs.
What Are My Subscription Options?
Because the needs of businesses can be so diverse, SEOBase offers a variety of subscription options to cater to needs large and small.
Currently, SEOBase offers 4 subscription options which vary in price and included features.
The free subscription version is a try before you buy situation. With the inclusion of up to 3 keywords, one monitored website, and all the SEO tools SEOBase provides, this introductory package allows for a little taste of everything. On top of that, customer service is available with all subscriptions, and a helper can be included.
The standard subscription type is the basic package which costs $7 a month. With most packages, yearly billing involves a discount. The basic package includes data analysis for up to 5 websites and 50 included keywords. This subscription type offers the availability of 2 team members to be added. This service also includes tag management, complete data reports, and desktop and mobile device support as well.
The premium service is one that jumps a bit in price, sitting at a $27 monthly average cost. This cost dips with a yearly subscription and rests at $22 if billed annually. The premium service offers the perks the lower plans do, with some extras. A subscriber with 50 websites, 500 keywords, and 5 team members for support will have no issue in the premium service, and customer support is included.
The last subscription offered is the Professional tier. With a $97 price tag, ($78 if billed annually) the professional packages includes a 300 website, 3000 keyword, 30 member limit. This tier includes premium customer support and all other SEO tools for the base cost.
Additional Information
Subscription to the free plan doesn't require a credit card to be on file, though upgrades or changes to the account may be performed in account settings as needed.
Auto-renew is policy for SEOBase subscriptions, but all changes including cancellation of the service or even deletion of the account can be done at any time.
Invoices are available in account settings for purchased plans and changes.
Overview
With services around the world, SEOBase provides an incredible opportunity for growth and insight of your online business. SEOBase has a dedicated lineup of developers and support agents to help with any questions or needs you may have.
Quality drives SEOBase, and the information gathered through their software helps thousands of happy customers worldwide to more accurately predict upward growth in the fierce competition of the online world.
Pricing is reasonable, competitive, and flexible based on your needs.