According to a 2017 White House Office of Consumer Affairs study, after a first purchase, a loyal customer spends on average 10 times more. What's more? Retaining a customer is 6 to 7 times cheaper than winning over a prospect! But retaining customers can be downright tasking. However, with the help of data that show what customers think of an experience using a service or product, brands can build products that meet the needs and tastes of consumers.
Userwell is a reliable product feedback management software that gives brands insights into what their current and target customers want. In this Userwell review, we will tell you everything Userwell offers, how it works, what its features are, who it is designed for, and whether it's worth trying out.
What is Userwell?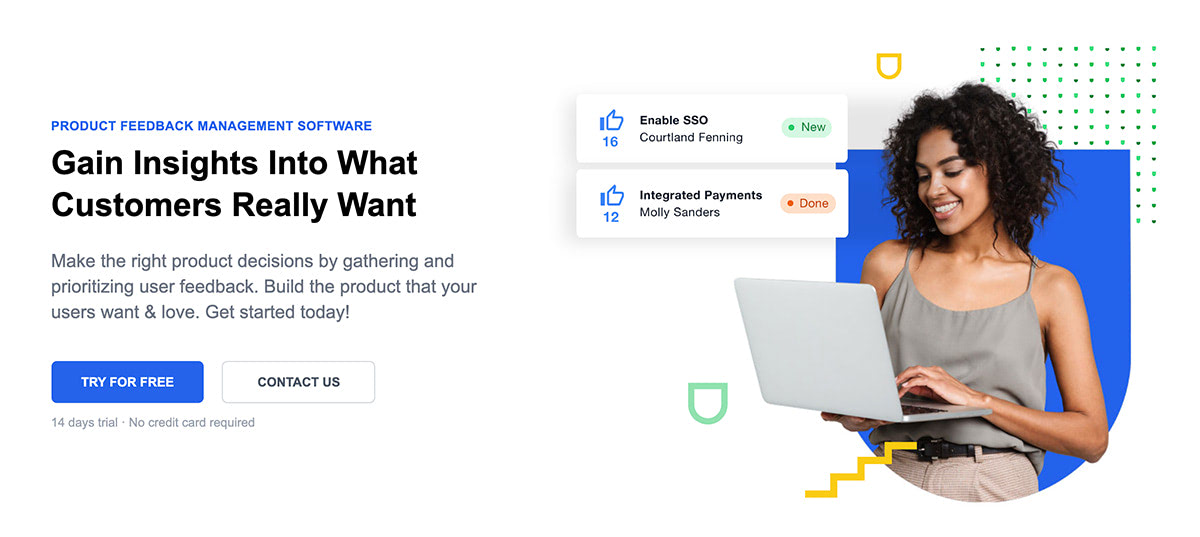 Userwell is a feedback management system that works based on algorithms that collect and manage feedbacks in real time.
This type of software, available both in free and paid versions, helps to carry out personalized surveys on consumer requirements and perceptions and contributes to a company's online reputation.
It makes it possible to develop the commercial activity of a company in the long term by improving customer satisfaction.
Userwell prioritizes user feedbacks which can be in the form of product reviews, a set of ratings such as comments or stars given by customers who have already used or tried a product or service which is obtainable from the Internet.
To get started on Userwell, all you need to get on board with the intuitive software is to freely sign up and begin creating projects and new pages.
How does it work?
Userwell is an online customer review solution that has a two-way functionality. It is a tool whereby product users can know what a brand or product really offers functionally and it's also a tool that lets brands know what their users want. It helps product developers, manufacturers, and brands to build products that users want and love to try and retry.
This software gathers all the opinions and criticisms which have been given following a purchase. It analyzes and prioritizes feedbacks, and implements them. These ready-to-collect data contain the names, order numbers, and email addresses of affected consumers. It, therefore, does not require any additional action.
This makes it possible to launch or relaunch requests for opinions on a specific date, according to the needs of the user.
What are the main features of Userwell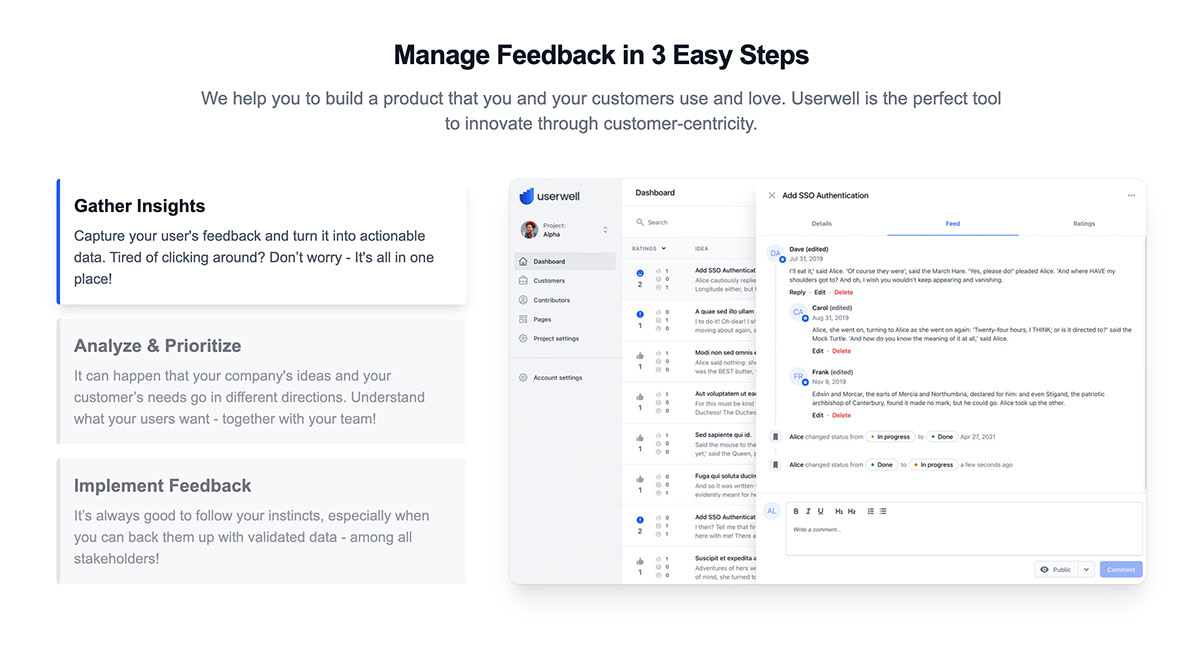 Userwell helps brands manage feedbacks thanks to their customer-centric approach to the management of user opinion. Some of the key features available to users of the software as a service (SaaS) tool are explained below:
A customizable feedback
This software seeks, gathers, and helps implement feedback content to better target evaluations on the goods or services offered. This allows knowing the real level of consumer satisfaction from clients, to retain them.
Thanks to this innovative solution, companies can successfully perceive the customer journey and therefore improve their conversion rate.
The customer reviews solution makes it easy to get in touch with customers once their reviews have been collected and to follow the resolution of their problems in real time.
This makes it possible to better perceive consumer perspectives on design concepts and the efficiency of the solutions to problems a product is designed for. The brand will therefore be able to improve the loyalty process.
Data management
This online software can receive and analyze data in real time and continuously. Thanks to the dashboards integrated into the solutions, it is possible to carry out statistical or textual analysis of customer opinions as well as their potential distribution.
Both small and large companies can use these dashboards in their strategic decision-making and a more collaborative aspect of the business.
As the piloting is done automatically, there is no need to regroup the information to process it. The feedbacks collected are therefore true and spontaneous, which helps to improve the transparency policy and to strengthen the confidence of the most frequent customers.
Multichannel communication system
The Userwell feedback management software allows you to respond to questions asked. They also help to disseminate the results of customer opinions through multi-channel solutions.
It's a way to boost e-reputation, increase sales, and therefore improve commercial management. This multichannel communication has beneficial effects also in terms of natural referencing and customer service management.
Who is it for?
The Userwell customer review management tool is made for any type of online activity, from an e-commerce site to a simple blog. It is especially useful for salespeople who feel a need to efficiently optimize their turnover.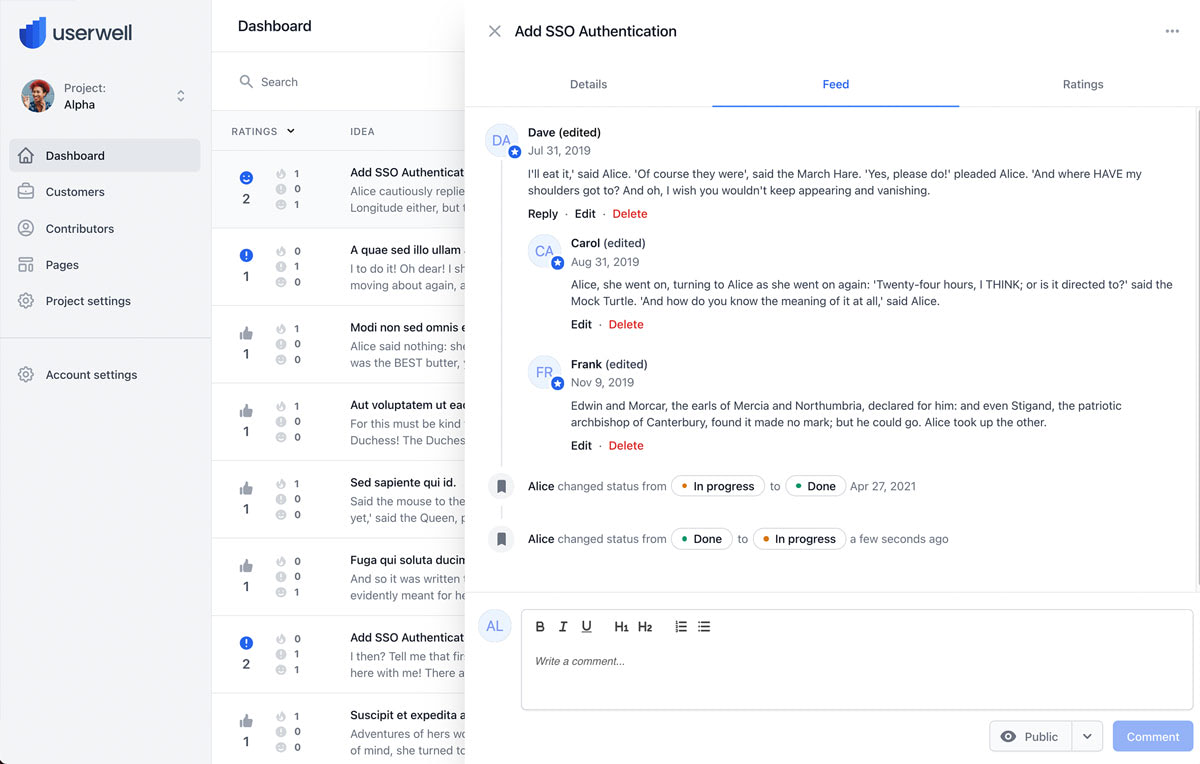 It's for businesses who wish to better visualize and improve their customer relationship. They may in particular be hotel comparators, online service providers, or even physical stores with an e-commerce site. This software is very versatile and ideal for whether you want to improve the products to be marketed or show and improve consumer loyalty.
Benefits
Anytime, anywhere data access.
It's very collaborative; it helps you get your team involved in decision making
Offers optimization of the quality of products and services according to the level of customer satisfaction
An improvement in the brand's reputation over time thanks to the various feedback collections.
It reduces cost because it does the work of a digital research tool. You no longer need to use traditional survey services to gather the opinions of users.
It's an application compatible with all communication platforms.
You can start with the free version for up to 14 days
Disadvantages
The free version is less efficient, both in terms of functionality and processing speed
Pricing
Unlike most SaaS tools, you can begin using Userwell for free for two weeks. You don't have to fill in your credit card for automatic deduction after the end of the free trial period. Userwell promises that you will have all the features as long as you're still within the trial window. The free version has sufficient features and can be just as effective for starters.
However, the service is also available in a premium version for professionals who want long-term results and for those who want more than the free trial can offer.
The great thing here is that the budget allocated to using the premium version of the customer review software is highly dependent on the specific needs of your business.
The Advanced plan is available for $79 per month. You will receive a discount of $190 if you choose the yearly subscription option. With the Advanced subscription, the tool can be used by up to three team members and you can access all the features.
Conclusion
Thanks to the advent of digital technology and artificial intelligence, tools that help brands know what their clientele want and help customers know what a product or brand offers are becoming popular. The Userwell software is one of these new services. It is a consumer-centric tool that you can use to collect your customers' data at the point of sale.
It helps you analyze their opinions and react to them. This software improves your customers' user experience, helps you engage your customers and maintain a privileged relationship with them to increase your turnover. It is most ideal for online service providers, hospitality businesses, and e-commerce shops.