The Shockmag theme by StrictThemes is a versatile magazine theme with a built in ad optimization system designed to maximize online income. Shockmag comes with several impressive demos showcasing versatile implementations of this theme. A generally masculine aesthetic lends this theme to niches such as sports and menswear. Shockmag's content-driven approach also gives this theme a lot of potential for implementation as a news site, magazine, or blog.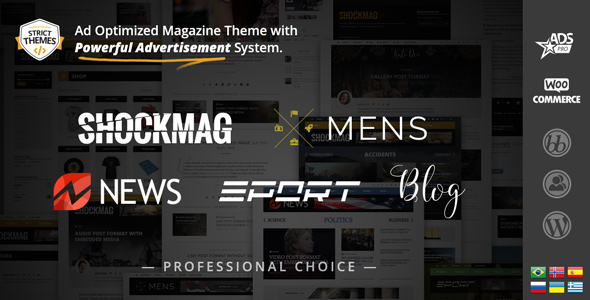 A wide variety of features make this theme highly extensible and powerful. The built in Ads Pro plugin brings a lot of additional value to this theme, giving you unparalleled control over your ad space. Shockmag is also completely compatible with responsive AdSense units. StrictThemes has created several powerful monetized magazine themes, and Shockmag is no exception. There is a lot of earning potential built into this theme.
Features
Shockmag is a highly responsive, user-friendly theme that translates beautifully across devices and screen size.
This theme is retina ready and will look sharp on high-resolution screen.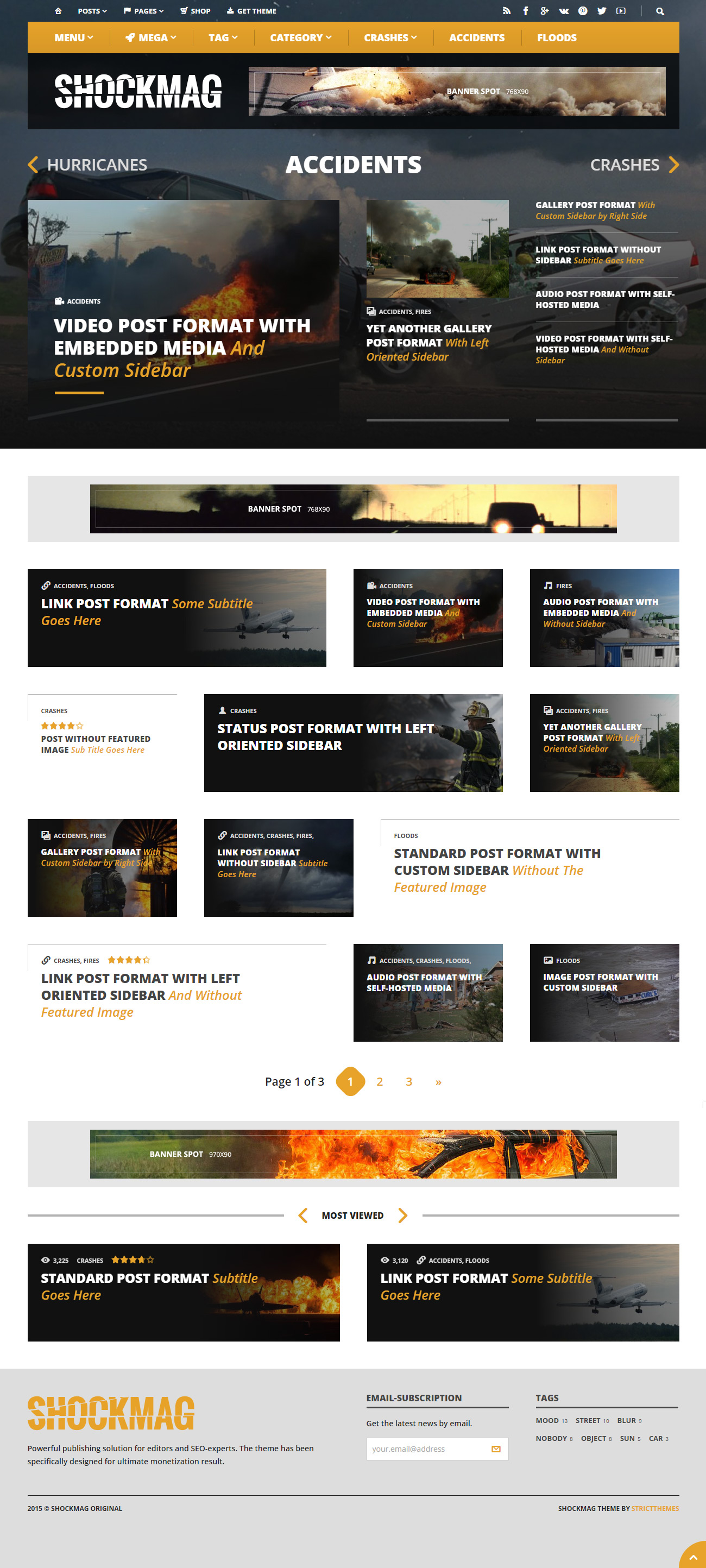 The customization options built in to the theme panel allow you to configure settings such as colors, fonts, layouts, and more through a powerful admin area. Boxed and fullwidth layout options are available for this theme.
Eight post formats are available, including Standard, Audio, Video, Status, Quote, Link, Image, and Gallery posts. Audio and Video post formats support embedded or self-hosted media.
A dedicated Authors Page is built in to the site, creating a space to showcase different site writers with links to social media. This is easy to customize directly from the Users Panel in the WordPress Dashboard.
Shockmag offers support for Google Fonts, giving you over 700 fonts to choose from. You can easily adjust typography settings from within the theme panel.
Unlimited sidebars give you virtually unlimited options to create unique, custom sidebars throughout your site on posts, pages, and categories. Sidebar positioning can also be specified (right, left, or without). You can also designate sticky sidebars to convey important information, promote ads, and capture the eye.
A powerful custom mega menu allows you to customize site navigation in a widgetized way. You can create up to five columns within your mega menu. In addition to highly flexible menu options, five different header templates give you a variety of layouts to choose from when building out your site. Six footer layout schemes are also offered, along with the ability to disable the footer entirely.
Shockmag definitely lends itself to a blog or magazine site. The theme offers eight different blogroll templates, including a masonry style layout, full-width layout, and multiple options for incorporating sidebars. Featured images are not required in this theme, and posts look great throughout the blogroll with or without them.
A built in review system creates the opportunity for anyone interested in offering reviews of products or services, or pursuing another income stream using affiliate marketing. Assign ratings using starts, points, or percentages. Simply add a rating to any standard post to turn it into a review.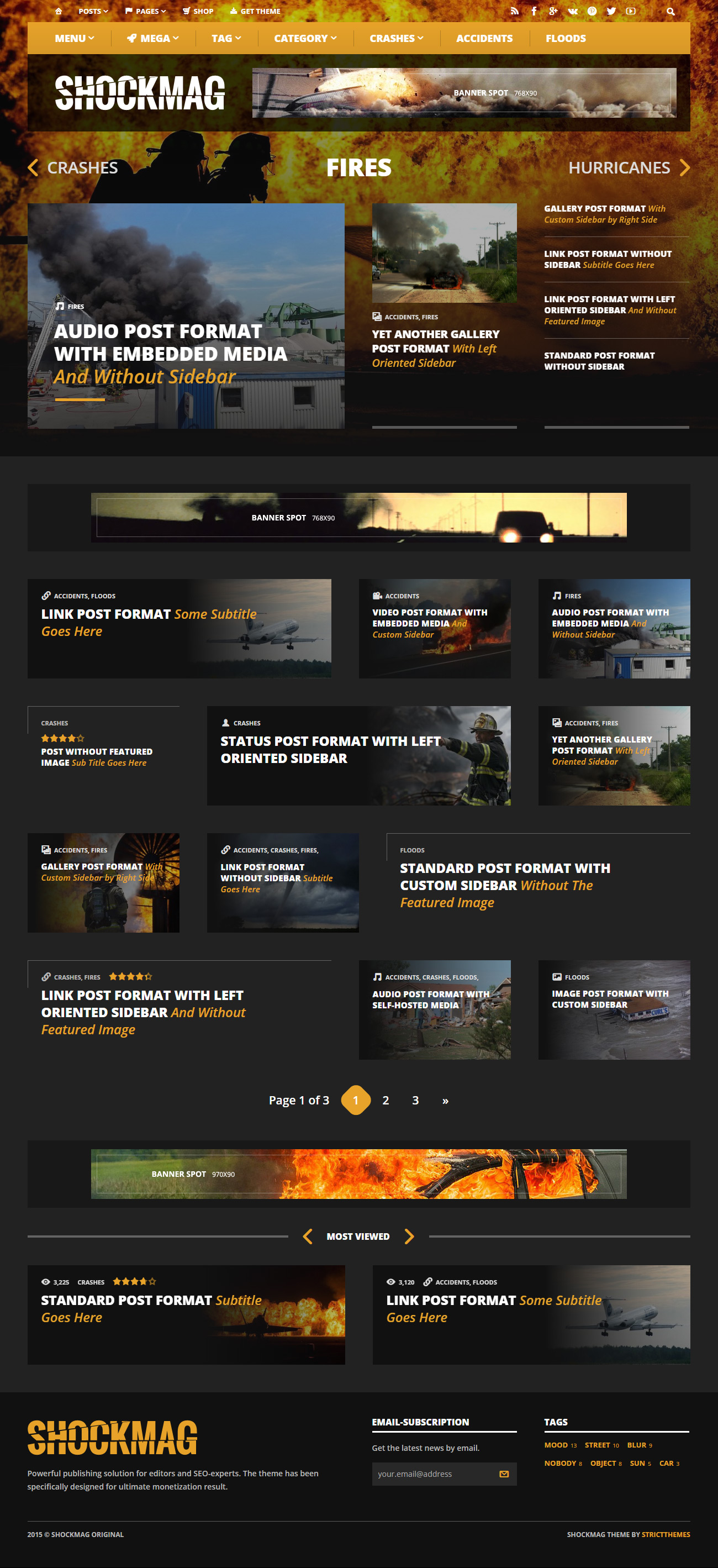 This theme is 100% translation ready. It comes with translations for the following languages: Spanish, Portuguese, Norwegian, Greek, Russian, and Ukrainian. To translate it into your language, just translate the theme's language file.
Grow an online community using forums and groups. With bbPress and BuddyPress compatibility, Shockmag makes it easy to add this functionality to your site.
E-commerce functionality with WooCommerce is also offered with this theme. Set up an online store quickly and easily. Shop and product page styles maintain a cohesive design with the rest of the site, allowing your brand to stand out. Shockmag is also compatible with WooCommerce widgets.
The popular WordPress SEO plugin by Yoast is supported by this theme.
A variety of premium shortcodes can be implemented, including columns, tabs, buttons, toggles, boxes, and more. A graphics shortcode builder is included, making adding shortcodes as simple as clicking a button.
Advanced lightboxes create stunning, professional galleries to display your images.
A lazy loading image slider can be used to create stunning posts. Lazy loading images will not load until a user scrolls to them, which can help with site speed.
Shockmag gives you some advanced options for organizing posts. Popular posts can be presented by a chosen time period ranging from week, month, year, or all time. Simply select your desired time period from within the theme options area. You also have the ability to customize design choices according to category. Set unique sidebars and backgrounds for category pages.
All theme PSD files are included, making the design highly accessible and easy to tweak. Along with the theme designs, PSD files with several stylish logo templates are also a part of the package. The logos are modern and ready to build on, making it easy to create custom branding for your site.
In addition to PSD files, Shockmag also comes with five pre-made demo sites to choose from: Magazine, Sport, News, Men's, and Blog. Each demo takes full advantage of the features offered by this theme, giving you a great starting point from which to build out your own unique site.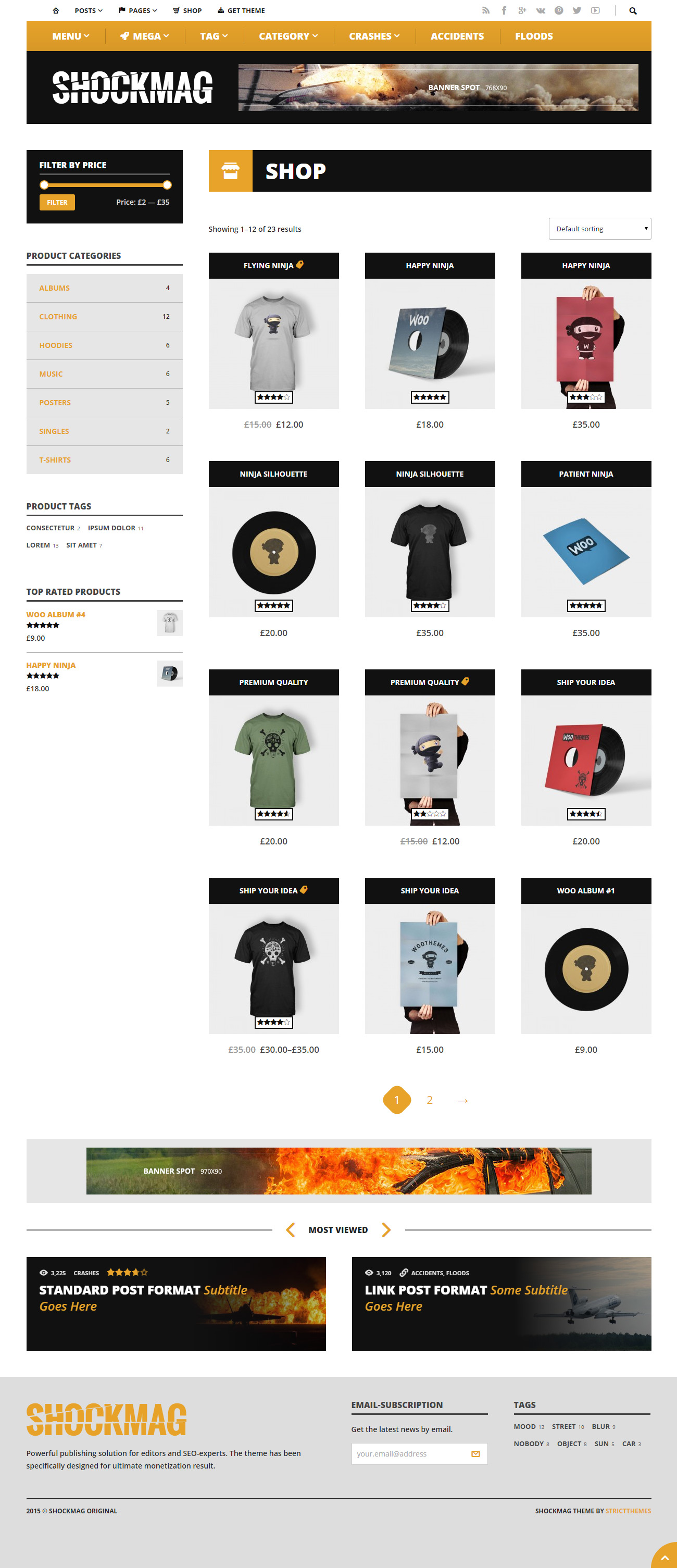 Shockmag is documented thoroughly by the StrictThemes. For developers intent on deeper levels of customization, working with the theme's code is smooth sailing. Clean, valid code is found throughout, and PHP, JavaScript, and CSS files are all organized and highly readable. Comments throughout the code make editing very straightforward.
Conclusion
Shockmag is a versatile magazine theme with a lot of earning potential. The integration of the Premium WordPress Ads Pro plugin brings additional value to this theme. Ads Pro gives you incredible control over managing your ad spaces, which are strategically placed throughout the Shockmag theme to gain maximum exposure without interrupting the flow of the site.
You could easily monestize Shockmag with advertising alone, but the theme also offers the potential to capitalize on multiple income streams. WooCommerce compatibility adds e-commerce ability and Shockmag's demo designs all boast attractive Shop and Product pages. The option to incorporate BuddyPress and bbPress into this theme bring even more value and potential for user engagement.
Shockmag provides a fantastic infrastructure for a thriving, monetized website. Five distinctive theme demos demonstrate the potential for Shockmag's design to be customized and crafted to suit a variety of different niches. This is an incredibly robust theme that demands attention and offers virtually endless opportunities for customization and creativitiy.