If you are in the market for a responsive WordPress theme to help with future business projects, then StrictThemes GuruBlog is worth considering.
When you want to showcase information or run courses online, there will be all the design elements and features that are required. Coaches and experts alike will find it useful and the financial gains that will come from such a spectacular website cannot be measured.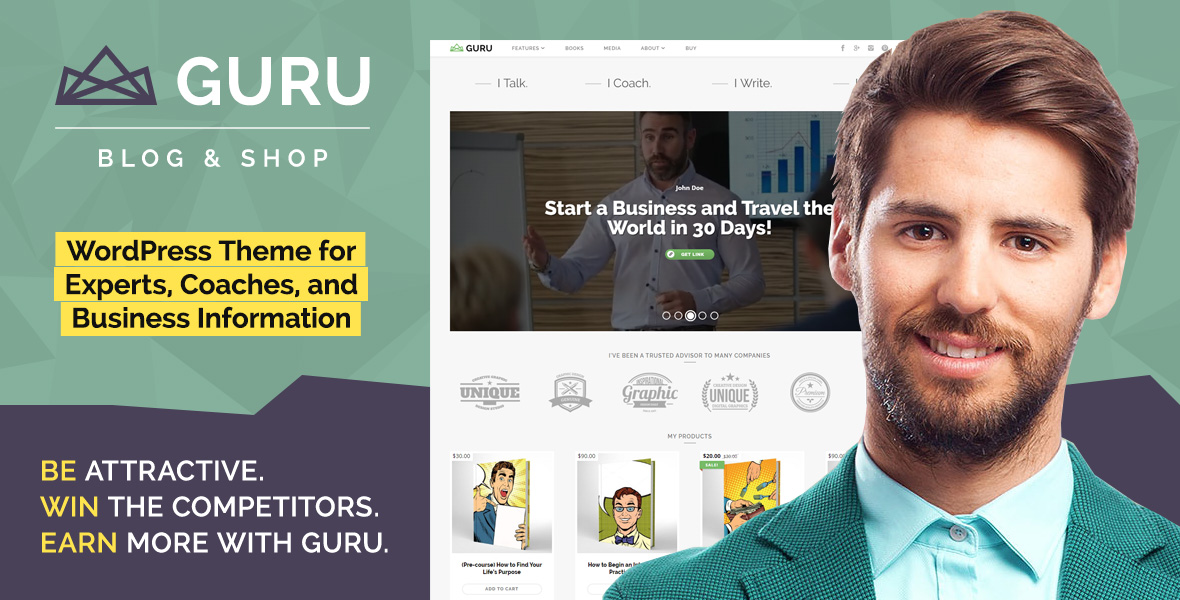 If you decide that this is the system for you, then this is what you can expect when you sign up for GuruBlog.
The major advantage is the fact that the choice of theme will be yours, and the tools that come with it will fit in with the job you expect it to do. Small businesses will benefit a great deal and if they are being used by life coaches and trainers, there will be everything they need to be provided. You will be able to show the public exactly what you can offer. All training possibilities will be shown and the system can be used on all devices thanks to the fully responsive theme.
In order to grow the business, it is useful to have the following tools.
A modern and up to date look to a website will give a head start when it comes to promoting the brand.
There will be enough space to put all of your wares on show. The more a customer knows about a business, the more interested they will be.
With downloads and digital products being integrated, it will be easy to connect with users and the more visits you have, the more chance there is of sales increasing.
Rather than explain what you do and how you can help, it will be best to let the customer see for themselves. A video slider will let you do this.
Blogs are ideal for keeping customers up to date – you can add all the latest information and even get feedback from viewers.
It is important to include prime details on all pages, and this will include contact details, business hours and where you are located.

WordPress has a strong theme and it will be possible for you to customize virtually every part. Regardless of the size screen, this is being viewed on, it will be totally responsive. Most surprisingly, it can be installed with just the one click of a button. You don't have to be an expert to work with this system.
There are so many key features that it will be hard to decide which is the most important to you. The major ones are:
Design – boxed layout or full width can be chosen and there are unlimited sidebars that can be added.
Blog templates and sidebars can be set out the way you choose.
It is understood that social media will be important and you will be able to add your views and opinions easily due to the icons being included.
You will want to make sure that there will not be any problems when customers are ready to pay for services. WooCommerce is installed and there is a shopping cart on the show so customers know how to select a product for purchase. The easier it is for shoppers to buy from you, the more likely they are to come back and the more likely you will make money.
Retina displays and high resolution is brought through the system being HiDPI ready.
Search engine optimization is vital when you want to appear on the first page. As soon as the content is added, the system is ready to proceed thanks to the CSS3 code and HTML5.
If you have any issues with the system, it will be easy to get the answer. If you find there is a bug in the system, it will be easy to fix.
A plethora of shortcodes – you will have the choice of tabs, columns, and buttons.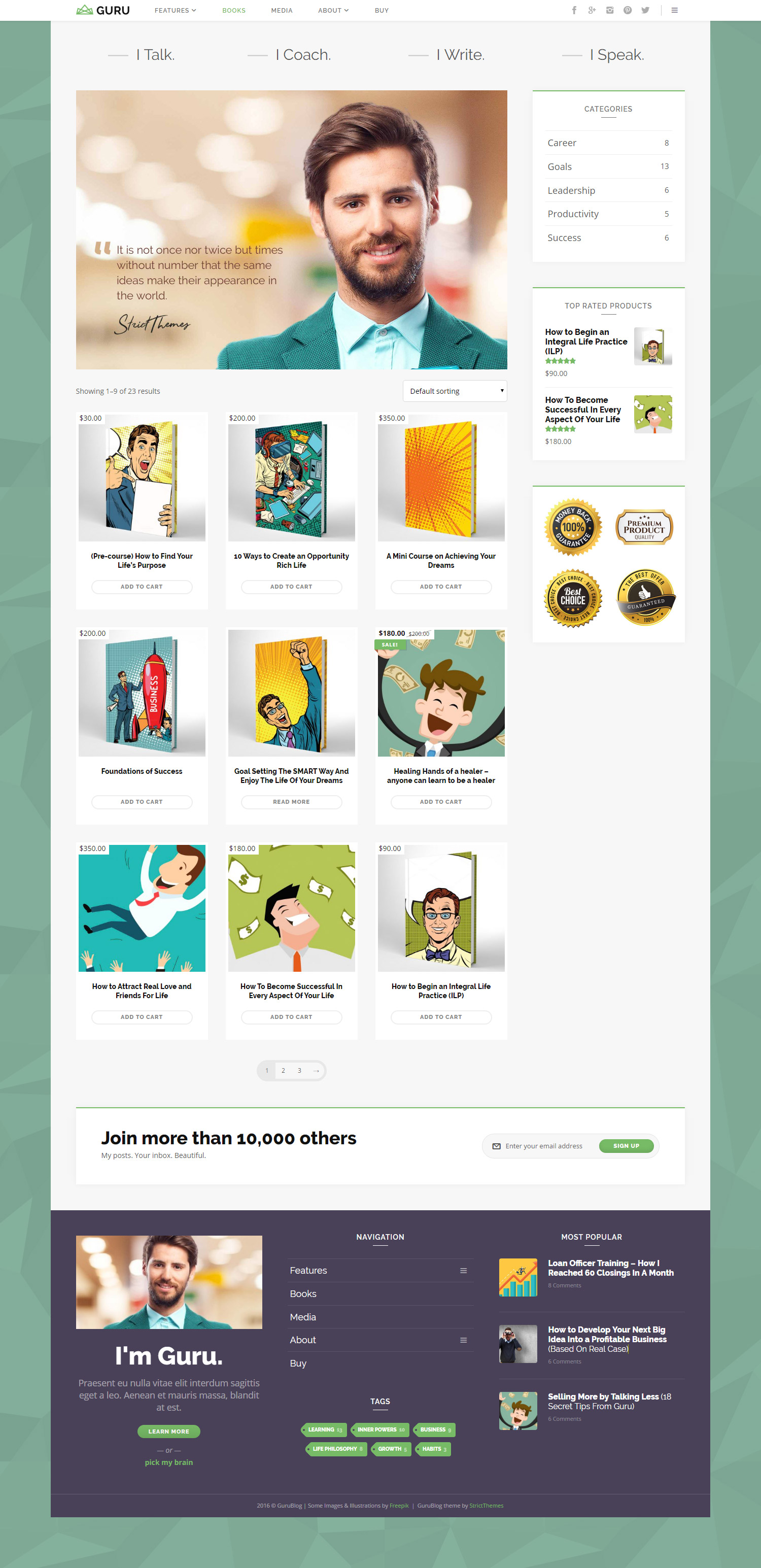 While all the above will lead you towards choosing GuruBlog, the area that is likely to sway the decision is the overall look. It appears modern and that will encourage customers to check it out. Thanks to the white space and boxes that are card-style, as well as a pleasant palette the entire look appears to be both trendy and yet still classic.
If altering lots of items is not your thing, then you can use the system as it comes. It will still be your website and until you get more confident, will do the job required of it. StrictThemes who are the creators of GuruBlog has been in the business of creating WordPress for over 10 years. They are ranked highly and have a great reputation within the Envato Market. When making this selection, you will be guaranteed 6 months of support and there will be updates in the future. It will be possible to buy an extended license but this will be more expensive than the current general price.
In conclusion, GuruBlog will be an item you and your customers will like.