When we shop, we can usually find things we want or would like to have. But essential items can sometimes be hard to find because they are scarce or the demand exceeds the supply.
It can be the same in the world of web design. Demand exceeding supply is generally not an issue in the world of web design tools and resources for designers and agencies. But scarcity can be an issue if the demand is low.
Current web design technology allows virtually anyone to build a website. There are web design tools available that enable beginners and experienced designers alike to build websites that anyone would be proud to own. Clients' special needs however can require web design tools and resources for designers or agencies that are outside the realm of their day to day needs.
Although not every client needs to convert huge amounts of data to tables or charts or automate a business process. Or even be aware of the importance of periodically checking for faulty links in the websites they use. This list of 14 best web design tools for designers and agencies address issues that are not important to every client but can be of vital importance to some.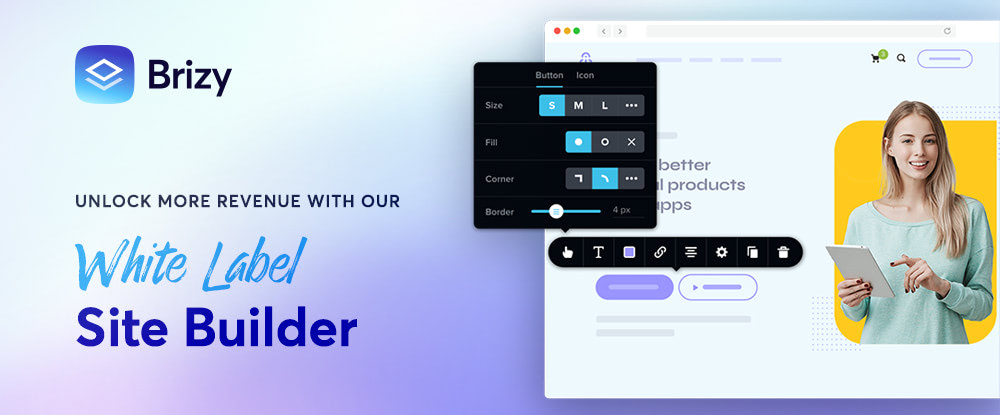 A White Label website builder is the solution to scale and unlock an additional revenue stream for your web agency. If you are looking to create client websites faster, easier or simply to save money by letting someone else manage development, maintenance costs, and potential scalability issues, then Brizy's white label website builder is the solution for you.
With the Brizy White Label Builder you can –
Add your own branding to Brizy's turnkey solution (Your clients will access the platform on your custom domain, they will see your logo and branding).
Offer your clients professional, high-quality websites pain free and without worry
Cloud hosting, SSL, CDN, updates are included and managed by Brizy, so you can provide your clients with top notch, fast & secure infrastructure worry free.
The Brizy White Label solution will save you the trouble and expense of having to create and maintain your own website building platform.
Click on the banner for additional information if you feel a white label solution is something worth looking into.
Trafft – Premium Scheduling and Booking Software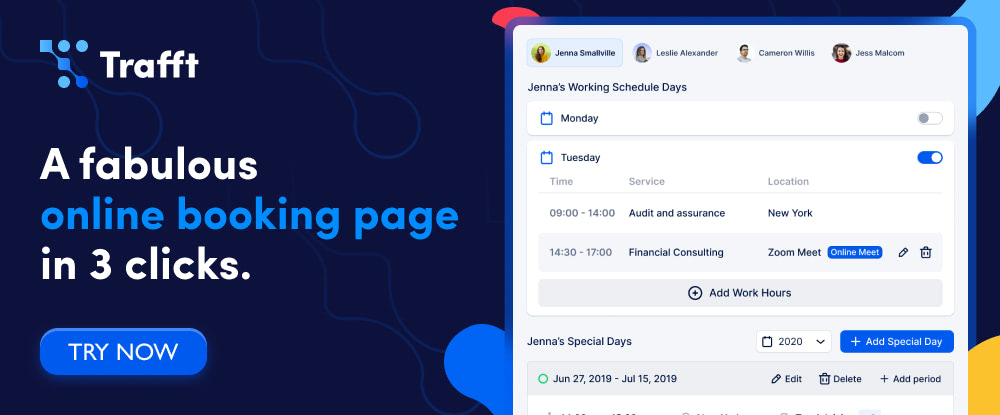 When a business process takes an excessive amount of time, is costly to maintain, or is contributing to customer dissatisfaction, finding a tool that could remedy those ills would be an essential task.
In the case of a service-oriented business the tool might be one that would automate a key process, an appointment booking process for example.  If your appointment booking process is manual it could be an area where you would benefit from some help and Trafft could provide a solution.
Trafft schedules and manages on-site or virtual appointments, meetings and events, manages staff services and schedules, accept payments, and sends reminders to customers.
Trafft can serve multiple locations from a single tool and platform.
Trafft integrates smoothly with Google Calendar and Google Meet, Zoom, Mailchimp, SendFox, and more.
Click on the banner to learn what Trafft could do for your business.
wpDataTables – Tables & Charts WordPress plugin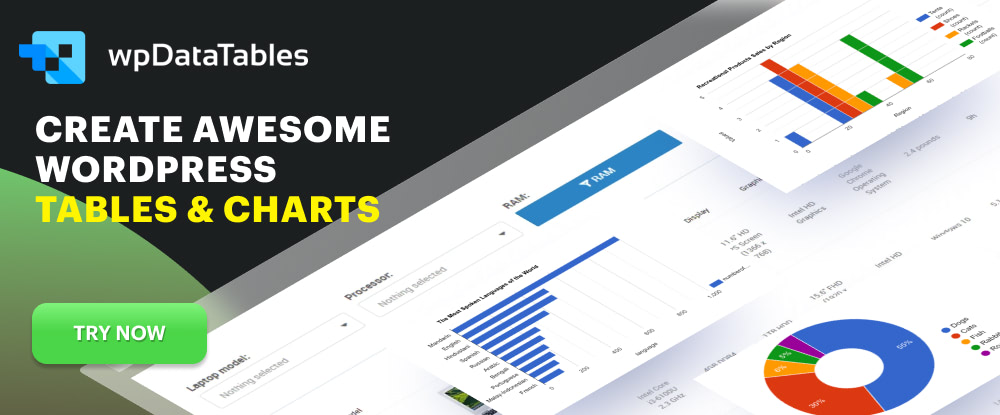 If the day-to-day task of seeking out and displaying important information from massive amounts of complex data gets makes you think that there must be a better way, maybe it's time to start searching for that better way.
70,000+ companies and individuals have placed their trust in the wpDataTables tables and charts WordPress plugin when working with complex data types.
The wpDataTables plugin –
has 60+ features out-of-the-box that include 4 chart-building engines — Google Charts, Highcharts, Chart.js, and Apex Charts.
can easily processes millions of rows of data and do so quickly.
allows you to create filters to quickly drill down to key data.
can create editable and responsive tables and charts and highlight cells, rows, columns depending on their content using Conditional Formatting.
Addons can extend wpDataTable's functionality even further.
Click on the banner to learn more about this feature-rich plugin.
Amelia – WordPress Booking Plugin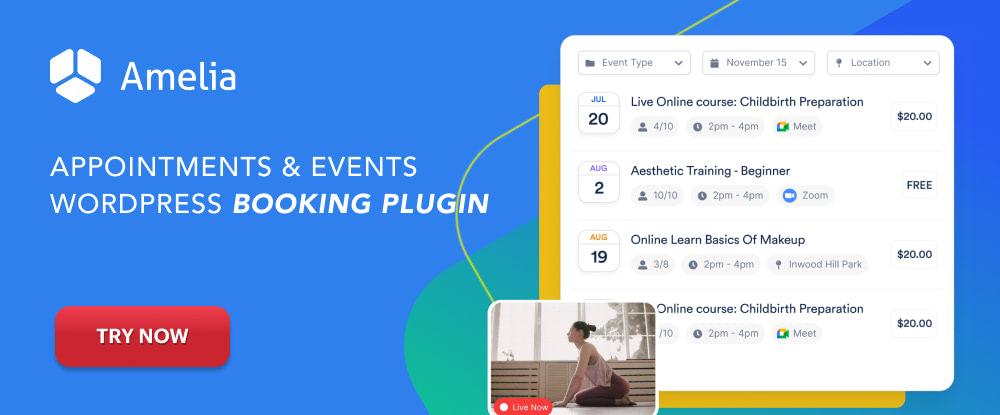 Amelia would be an excellent choice and a genuine time and money saver for beauty parlors, health facilities, and many other service-oriented businesses that are currently relying on manual or semi-automated appointment booking systems.
The Amelia WordPress booking plugin automated booking system can considerably reduce misunderstandings and no-shows.
Clients can make appointments online 24/7 and can also make payments online via several payment services.
SMS, Email, and WhatsApp notifications and reminders can be automatically sent to clients for upcoming events and appointments.
Business owners can track business performance with a dashboard that summarizes critical KPIs.
Amelia also manages custom duration for services requested as well as shared resource bookings to avoid overbookings.
Amelia can manage appointments at multiple locations from a single platform.
Uncode – Creative & WooCommerce WordPress Theme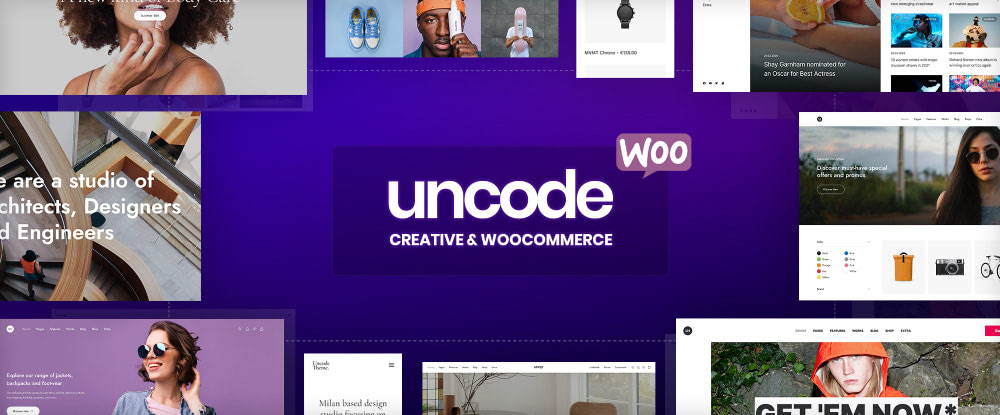 More than 100,000 sales have made Uncode one of the top-selling themes of all time on the Envato Market. That could be reason enough to make this creative and WooCommerce WordPress theme your choice for creating the pixel-perfect websites your clients want.
There is much to love about Uncode including –
the attention its developers have paid to flexibility and performance.
the Frontend Builder, WooCommerce Builder, advanced Ajax filters, and the Wireframes plugin and 550+ wireframes sections.
70+ carefully crafted mix and match pre-made designs you can customize to your hearts content.
Uncode is WPML and RTL certified.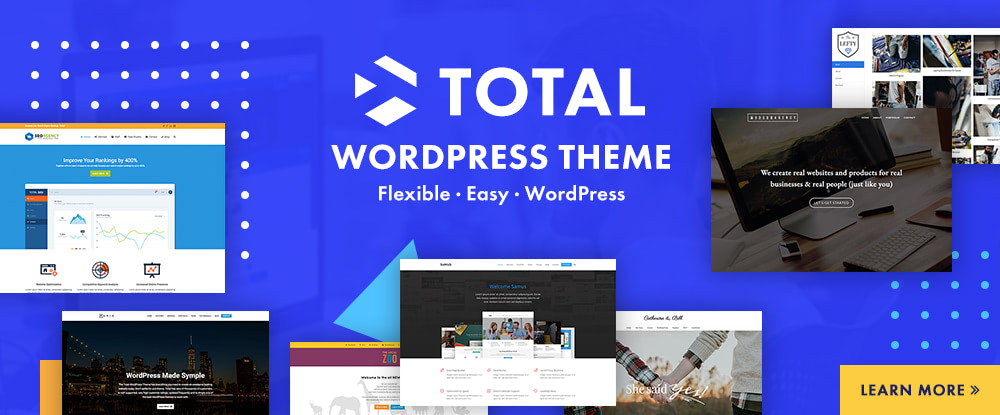 As its name would suggest, Total is an exceptional choice if you're looking for a theme that offers the maximum possible flexibility.
Browse through this flexible multipurpose WordPress theme's well-stocked toolkit of features and you'll find –
an extended version of the WPBakery page builder, easy to use selections of demos and section templates, and hundreds of customization options.
the popular Slider Revolution plugin for creating engaging sliders to jazz up your websites.
Elementor, WooCommerce, WPML, and bbPress integration and compatibility with most popular plugins.
Slider Revolution – The Best WordPress Video Slider Plugin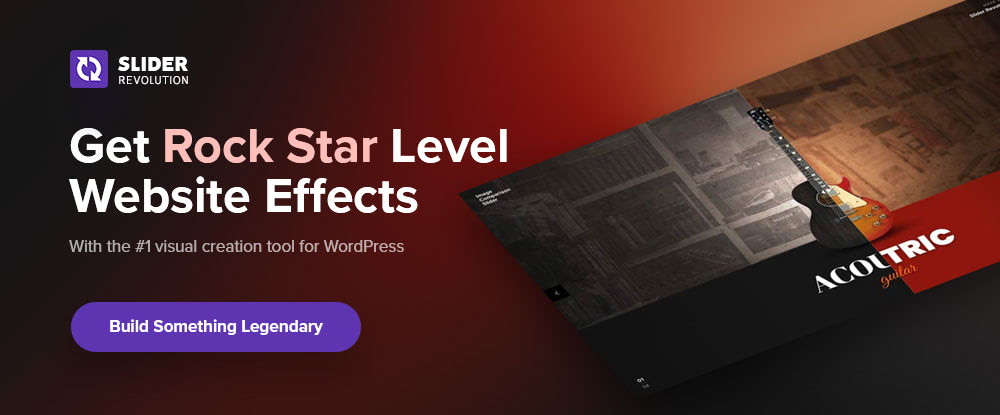 The Slider Revolution video slider plugin has so much to offer, especially if you have one or more websites that are boring, and you would like to make them engaging if not irresistible.
The Slider Revolution video slider plugin comes with more than 250 pre-built templates that can make a website look like it took thousands of dollars to design.
Pick a template, replace the video content with your own, customize your new slider to your taste, and add it to your web page.
It's as simple as that. 
Mobirise Website Building Software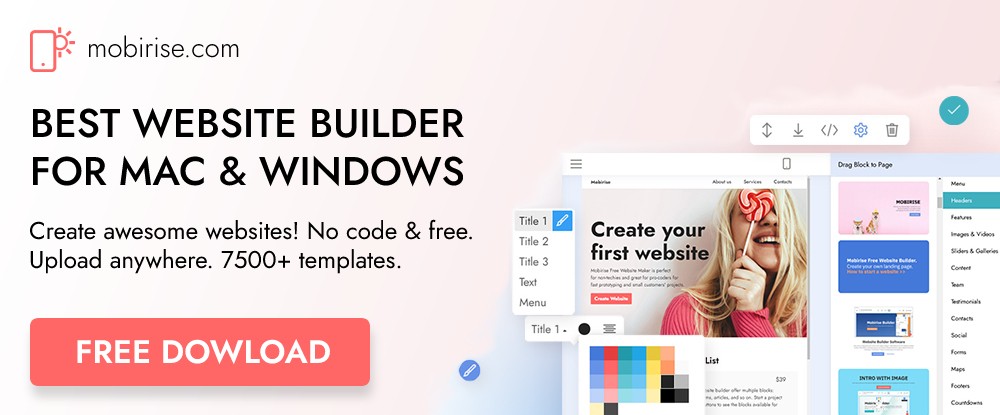 Building a website a client will genuinely appreciate is always rewarding, but when you don't have total ownership of the website builder or the website, you might feel you're getting more credit than you deserve.
Not so with Mobirise, the free offline downloadable app for Windows and Mac.
You'll own your site, you can update it locally, and you can host it wherever you want.
Mobirise is free for commercial as well as personal use.
In addition, 7600+ beautiful website blocks, templates and themes come with the package and HTML is fully accessible if you want to code.
WhatFontIs – find font by image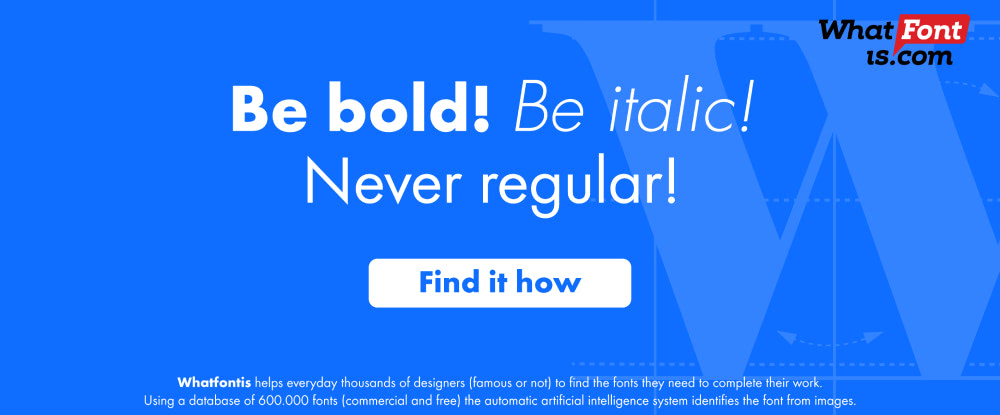 Reliable font identification is good to have whenever you come across a font that you or a client simply must have. A good font identifier is one that finds both commercial and free fonts. WhatFontIs is the only system that does just that.
WhatFontIs, with its AI-powered font finder and catalog of 840K fonts delivers reliable results at a reasonable cost.
Upload a clean image of the font you need to identify, and the system will find the font and 60 close examples 90% of the time. The 10% 'misses' are usually caused by poor quality images.
Harington: The Perfect WordPress Theme for Your Portfolio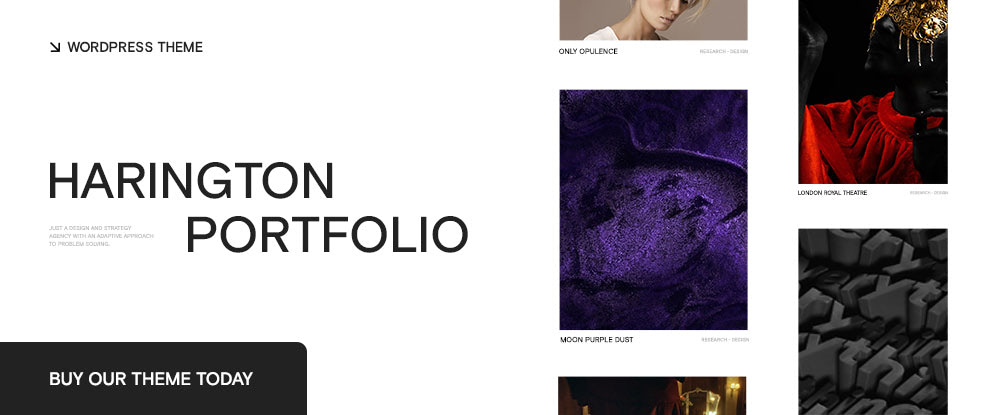 A theme packed with modern and responsive design features that would enable portfolio owners to showcase their work in the best possible light would be a must, especially in the eCommerce world.
The Harington creative portfolio theme satisfies that requirement and then some. Professionals and beginners alike can take full advantage of the outstanding effects Harington is capable of producing.
Harington's modern features range from exquisitely crafted sliders and portfolio grids to AJAX loading and dynamic GSAP animations as well as Live Demo Import and lifetime updates.
Harington is retina ready, WPML compatible, and SEO optimized.
Blocksy – Free WordPress Theme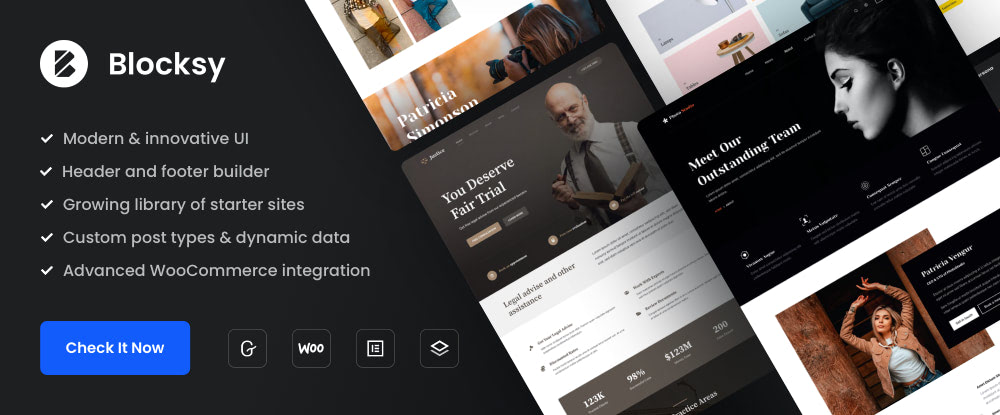 Blocksy is lighter and faster than similar WordPress themes, it features a modern and innovative UI, a growing library of elegant pre-built starter sites, and to top it all off, it's free.
Built on top of Gutenberg and up-to-date web technologies, Blocksy is also compatible with WooCommerce and the popular Elementor, Brizy, and Beaver Builder page builders.
Features include a powerful header and footer builder, local Google Fonts, a Contents Blocks module, and support for Custom Post Types and Dynamic Data.
A White-label module for agencies is available.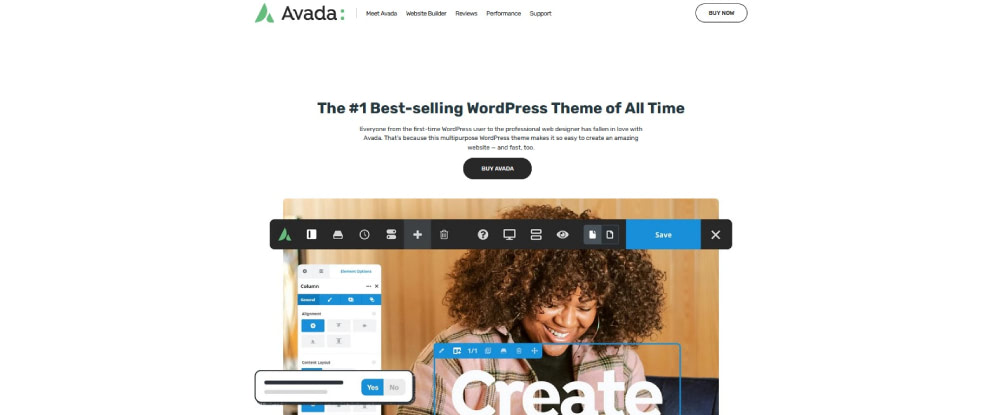 More than 750,000 users have fallen in love with ThemeFusion Avada. 24,000 of them have submitted 5-star reviews. That's partly because Avada makes it so easy and fast to create amazing websites whether you're a first-time WordPress user or a professional web designer.
Pick your favorite pre-build design from the 1-click demo importer and start customizing with Avada's live visual builder.
Everything from layouts, contents, headers, footers, forms, store pages, color palettes, and typography sets can be customized.
Whether you prefer to do everything yourself of get an expert to help you, Avada provides responsive, comprehensive support in a variety of formats.
Dr. Link Check – Broken Link Checker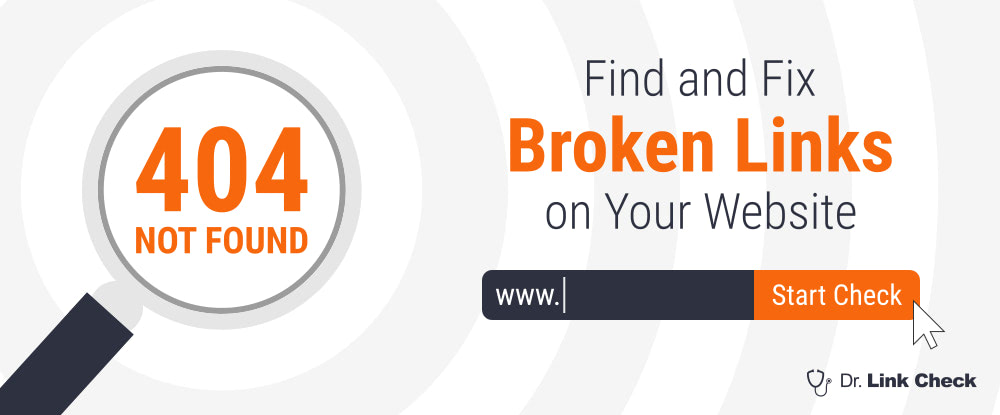 Non-working links can not only deter visitors from staying on or returning to your site, but they can also negatively impact your search engine rankings, they reflect poorly on your professionalism, and can even cause harm through malware or phishing.
Instead of manually checking each page of your website let Dr. Link Check scan the entire website and check to see if –
the URL is properly formatted.
the server returns an error code.
the link appears on a malicious content blacklist.
Dr. Link Check can run scans on a regular basis and report problems via email.
The Essential Grid WordPress plugin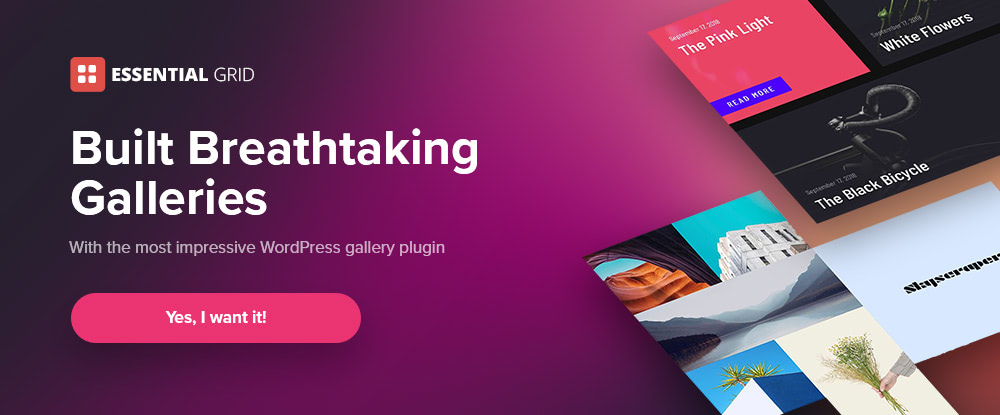 What is the best WordPress grid plugin you could have in your designer's toolbox for injecting life into your websites through the use of breathtaking galleries? 400,000 happy customers would point you to Essential Grid.
Essential Grid, created by the Developers of Slider Revolution –
provides you even, masonry and cobble layout options to display your creative work. Grids can be mixed and matched.
ensures your galleries are responsive and super-fast loading.
can automatically source social media content and upload it to your website.
Sometimes, a client's demands include a website with certain essential features that require special resources or web design tools for designers or agencies to incorporate. The designer has shop for web design tools that may be difficult to find because of the stringent demands placed on them.
We've done some heavy lifting for you with this list of 14 best web design tools and resources for designers and agencies. Any one of them could be a solution for a particular situation you may be faced with.