People travel all the time, from one city to another, from one country to another, and sometimes from one continent to another. The average number of flights per day around the world is 103,465.
According to reports, more than 500,000 people are estimated to be flying at any given time. This equals to more than 6 million passengers per day.
A large portion of these estimated 6 million people is on the web wanting to know more about their next flight. The demand for live flight analytics is very high. There are many websites that provide such information.
This is done with the help of different algorithms and APIs like AviationStack. Since there are a number of software offering such services, it can be difficult for users to pick the right one.
In this AviationStack review, we'll have a look at the API and conclude if it's worth a try.
What is AviationStack?
AviationStack is a real-time, free flight status and global aviation data API. It provides detailed and rich API suits that allow users to access global aviation data without any trouble.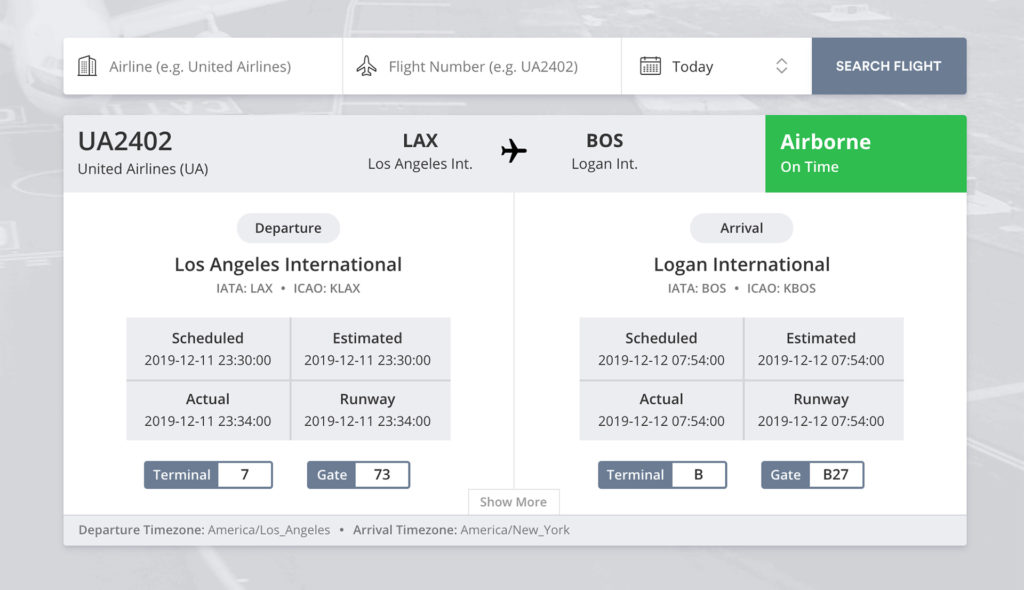 The tool is designed to offer a cost-effective and simple way of accessing real-time flight data. The platform is used by over 5,000 companies around the globe to provide flight tracking related services to visitors.
The API is owned by Apilayer, a software house based in London with offices in Vienna, Austria. The company is quite reliable and has produced a number of SaaS products including EverSign, Invoicely, and WeatherStack.
What Can AviationStack Do?
AviationStack is a complete aviation data solution. The tool is said to be perfect for booking platforms or websites, flight tracking apps that use data based on location, airline, day, etc. It can also be used by hobbyists who want to monitor flight data or passengers who want to verify the information.
Here's what you will be able to do with this tool:
– Global Coverage
It's a global platform as it covers data from more than 250 countries and 9,000 cities. New cities or airports may be covered as well as they get added. This is a major benefit of using this platform, you can rest assured that the system covers more than 90% of flights with more to be added.
– Extensive Data
The API covers a variety of data from schedules to routes to aircraft details. You will find it all under one roof. You will not have to use any other tool if you use AviationStack since it covers almost everything related to aviation.
– Scalable
One of the best features of this API is the scalability factor. This makes it suitable for all kinds of websites, from a small blog to a big enterprise.
The infrastructure is quite powerful and can handle millions of requests. This is very important because if your website or platform is a success, you may have to deal with a huge number of requests. If a system cannot handle it then it will crash.
– Affordable and Free
AviationStack is one of the most affordable options to choose from. You can start with a free package and then moved to one of the many paid packages according to your requirements.
We have covered more about AviationStack prices later in this AviationStack review.
AviationStack Features
Here are some of AviationStack's main features:
– Real-Time Data
The API comes integrated with a sophisticated system that provides updated data – every 30 seconds or so. This information can help you be on time and ensure you never miss a flight or reach too early for a delayed flight.
– Historical Data
AviationStack is one of the few platforms that offer historical data. Whether you're interested in a flight that you missed yesterday or one from last year, you will find the information that you need on this platform.
– Country and City Lookup
If you want to look at flights coming to or going from a specific city or country, you will be able to do so using this API as it lets you
– Airport and Airline Lookup
The API provides data from over 10,000 airports and 19,000 airplanes. It covers more than 300 types of airplanes from over 13,000 airlines.
– Aviation Tax Lookup
The API includes data from 500+ aviation taxes. Since taxes differ from country to country and state to state, this factor can be very important for some users.
– Airline Routes Lookup
The API covers routes that are usually fixed but may change due to changing political conditions. Travelers and agencies often want to know about airline routes before planning a trip. This API can help in this regard as it covers thousands of routes.
AviationStack Pros and Cons
Here are some of the main pros and cons of the AviationStack tool.
Pros:
The data it provides is highly accurate
Offers an uptime of 99.9%
Very easy to use – takes less than 10 minutes to set up
Highly secure platform to use
Cons:
Some countries are still missing
AviationStack Prices
The best thing about AviationStack is that it's available for free. However, the free version comes with some limitations such as 500 requests only and limited support. It carries a personal license only and cannot be used for commercial purposes.
This is why it is best to opt for one of the several paid packages. They all come with unlimited support, a commercial license. Other features you will only find on paid packages include historical flights, airline routes, autocomplete, and HTTPS encryption.
You can opt for a customized package as well, known as Enterprise. Get in touch with the company to request a custom quote.
We suggest to opt for a yearly package if you want to save money. However, it is best to try it before you commit to a long-term contract.
AviationStack FAQ
Ques#1: What kind of API does it use?
It uses a JSON REST API.
Ques#2: How often is data updated?
The data is updated every 30 second, hence you'll have real-time information.
Ques #3: Does it only cover airlines?
Yes, it only covers planes.
Ques #4: How is the customer support?
The company offers excellent customer support to paid members. Free members get limited options.
Ques #5: Does it only cover international flights?
No, it covers both domestic and international flights.
Conclusion
It's clear from this AviationStack review that this platform is one of the best options for those who want to include airline data. It is easy to integrate and quite affordable as well.