PositionStack is fast becoming the go-to option for businesses and individuals who want to introduce geocoding. Hence, we decided to post this PositionStack review to help you understand how good this platform is and if you should give it a try.
In this PositionStack review, we'll understand the role and importance of geocoding and how PositionStack can help you make this technology a part of your business.
What is Geocoding?
Geocoding is defined as the process of transforming an address or a pair of coordinates into an identifiable spot on the map.
You can enter one description, i.e: an address, and the system will find it on the map. The technology is used for various reasons. Businesses, for example, use it to find routes or delivery locations to ensure goods reach the right destination.
Amazon recently introduced drone delivery, which is based on geocoding. Other than this, geocoding enables companies especially insurance providers to make risk assessments.
They can use this information to measure the threat of natural disasters such as earthquakes and hurricanes.
What is PositionStack?
PositionStack is an API built to deliver a straightforward and affordable REST API interface that covers global reverse and forward geocoding in real-time.

It supports more than 250 countries with over two billion international addresses in the database. It uses several reliable data sources to ensure high accuracy.
You can trust the API to be safe and secure as it is run by Apilayer, the company that owns several other similar platforms such as SERPStack, Ipapi, and CurrencyLayer.
What Can PositionStack Do?
PositionStack can help businesses or individuals identify an address on the map so that it gets easier to research the area or deliver goods. It does so by offering:
– Global Coverage
Fortunately, this software is truly international as it includes all countries out there. This means businesses around the world can use this AP. However, we found that some countries give better coverage than others. The good thing is that the software is constantly being upgraded, so you can expect more addresses to get added in the near future.
– Extensive Data
The system offers extensive data including forward geocoding and reverse geocoding. The former refers to starting with a location or address and ending up with longitude and latitude coordinates. The latter refers to starting with longitude and latitude coordinates and reaching a human-readable address.
– Scalable
Since businesses are growing, it is important to choose a tool that does not curb your growth. Fortunately, PositionStack is highly scalable, hence it's suitable for everyone from individuals to small corporations to multinationals.
This is made possible thanks to the use of rich and powerful infrastructure that can handle thousands of requests without any difficulty. However, you must make sure to pick the right package since each comes with limitations on the number of requests it can handle.
Calculate the kind of traffic you expect and pick a package that fits your requirements. The good thing is that you can change your package as your business grows, hence you will not have much of a problem.
– Affordable and Free
PositionStack is undoubtedly a very affordable geocoding API. You will find many alternatives on the market but very few match the price this one offers, especially when compared to the feature-rich portfolio it has.
Check out the price section in this PositionStack review to know more about how much you will have to spend to get access to this incredible service.
PositionStack Features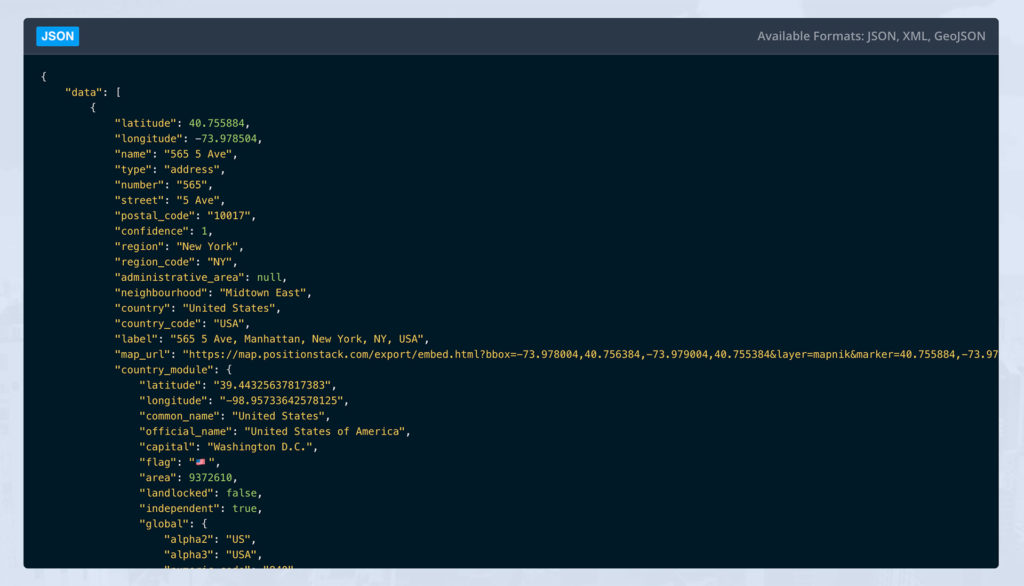 Here are some of PositionStack's main features:
– Embeddable Maps
With this tool, you will be able to embed maps into your website or app so that users can easily identify the location. An address is of no use if you cannot pinpoint it on the map.
The software cannot only find exact addresses for you but can also identify it so you can draw a route. You will not have to use another software for the map since this one uses the latest map to link addresses.
– Real-Time Data
The API offers data in real-time and provides valuable information such as timezones, country, and location components. This is very important because you may not know the time and conditions in the place you're Googling.
This factor can be very useful for growing businesses that use addresses to deliver goods. They can find the exact location through the API and plan accordingly.
– Worldwide Coverage
As mentioned earlier, PositionStack is a global platform. It covers all countries out there, hence it works for all kinds of websites. The company sources data from multiple channels. Plus, it is updated several times a day, hence you will always have the latest information.
Sources include names such as GeoNames, Nominatim, OpenStreetMap, and Pelias. These are known to be accurate and reliable.
PositionStack Pros and Cons
Let's look at some of the main pros and cons of PositionStack:
Pros:
It is available in multiple languages
Offers excellent uptime – up to 99.9%
Very easy to use and integrate
You can use the software for free
Cons:
Bank transfers are only available for large-volume customers
PositionStack Prices
You can use PositionStack for free but with limitations.  The free version comes with 25,000 requests and supports both forward geocoding. It is only for personal use and offers limited support.
If you want to enjoy all the features then you will have to opt for a paid version. There are several options available.
You can enjoy a discount by signing up for yearly packages. However, since there are no refunds – unless the system fails – we suggest that you first try the free version or sign up for the monthly package to understand how it truly works.
All paid packages come with features such as a commercial license, unlimited support, HTTPS encryption, batch requests, multiple languages, embeddable maps, XML, JSON & GeoJSON, extended rate limit, reverse geocoding, and commercial geocoding.
We found packages pretty good but if they do not satisfy you then you can opt for a custom package as well. Get in touch with the company to request a quote.
PositionStack FAQ
Ques#1: How often is data updated?
The company promises 'real-time' results. The data is updated several times a day.
Ques #2: Shall I pay yearly?
It can be a good option if you want to save money since yearly packages come with a 20% discount.
Ques #3: How is customer support?
PositionStack customer support is pretty good if you are a paid user, especially a Business user as they receive premium support. Free members do not get unlimited support.
Ques #4: Does it support mobile devices?
Yes, the API does support mobile devices.
Conclusion
At the end of this PositionStack review, we can say that this API is made for all kinds of businesses and is quite reliable. The company is doing everything right and charges a very small fee, making it a great option for both startups and big businesses.