These websites have something yours don't.
Websites with a strong domain rating can attract more inbound links than average; their websites generate more traffic, and they earn more revenue from customers. Their content seems to rank faster, and they seem to generate more links. Looking for a Pingdom alternative, check your website downtime and receive alert by email.
How do they do it?
Today we're going to take a look at domain ratings. I'll show you why it's important, how to improve it, and the results you can achieve with a stronger domain rating.
What is a domain rating?
Domain rating is often confused with domain authority — these terms are often used interchangeably.
They're not the same things.
According to Ahrefs, your domain rating is a measurement of the strength of your website's backlink profile when compared to other sites. It also takes into account your internal linking strategy, subdomains, "umbrella companies", and more. On the other hand, your domain authority gives you an idea of the sites that will rank better in search results.
Here's where things get confusing.
Well-known sources like Moz say, "Domain Authority is not a metric used by Google in determining search rankings and has no effect on the SERPs." Google stated for years that domain authority doesn't exist and does not factor into how they rank pages.
This goes against common sense.
It's unlikely that a brand new blog will outrank an established website like The New York Times for the same keywords and queries. Possible, but very unlikely. In fact, Dr. Pete Myers, a Moz Marketing Scientist, agrees:
"Do you believe that a new page on a low-authority domain (let's say DA = 25) has an equal chance of ranking as a high-authority domain (DA = 75)? Of course not, because every domain benefits from its aggregate internal link equity, which is driven by the links to individual pages. Whether you measure that aggregate effect in a single metric or not, it still exists."
See how the two metrics, domain rating and authority, are conflated together?
Why your domain rating is important
Your domain rating, via your backlink profile, has an impact on how you rank for pages. However, your domain authority as a whole also consists of a variety of factors, including:
The age of your domain. If the period between two domains is six months, the age of your domain isn't as much of a factor. If the span of time between two domains is greater, it plays a more prominent role but still isn't a dominant metric.
Keywords in top-level domains. While Google uses keywords in top-level domains (e.g., .com, .net, .org, .edu) as a relevancy signal, it doesn't provide the SEO benefits it used to.
Domain registration duration. A Google patent found that "Valuable (legitimate) domains are often paid for several years in advance, while doorway (illegitimate) domains rarely are used for more than a year. Therefore, the date when a domain expires in the future can be used as a factor in predicting the legitimacy of a domain and, thus, the documents associated therewith."
Your domain's history. Domains with a troubled history (e.g., several drops in rankings, frequent changes in ownership) are treated differently than domains with a clean history and no problems on their record.
Why does this matter?
Well, as I mentioned earlier, your domain rating, which includes your backlink profile, has an impact on your performance in the search results. Research shows backlinks continue to play a prominent role in rankings and Google search results.
Here's why this is important.
Research shows the average clickthrough rate for the first place position in Google is currently 25 percent. The better your rankings, the better your clickthrough rates; the better your clickthrough rates, the more likely you are to convert a visitor to a customer.
What about 10th place?
The clickthrough rates drop to only 2.5 percent on average.
That's a big difference!
You'll see a dramatic decrease in clickthrough rates if you're not in first place. Second place receives an average CTR of 15.7 percent, while third place receives 11 percent. The clickthrough rate for first place is 200 percent higher than second place!
What does this mean?
The stronger your domain rating, the easier it is for you to rank in Google. Here's how Ahrefs describes your domain rating:
"Think of DR as a relative term in the sense that it's dependent on not only the total number of high-DR sites that link to you, but also on how many other websites these high-DR sites link to.
Note that while DR correlates with Google rankings pretty well, it doesn't do this as well as our URL Rating (UR). Instead, consider DR as a great metric for selecting websites to build links from. As a general rule, you should aim to get backlinks from high-DR websites because they carry more 'weight.'"
This means your domain rating, via backlinks, relevancy, and other factors, directly impact the amount of traffic and revenue you're able to receive from Google, Bing, and other search engines. It's clear that increasing your domain rating is essential for businesses looking to improve their performance in search results.
How to increase your domain rating in 90 days
It may sound a bit intimidating, but it's simple to increase your domain rating in 90 days or less. It's not rocket science; it just takes consistent effort and hard work. Here are some important details to remember with these tactics.
These tactics are boring: They're not sexy, and they're not the latest and greatest methods that are designed to generate oohs and ahhs. They're boring and repetitive, but eventually they produce an avalanche of traffic.
They're layered: One tactic affects the performance of another tactic. For example, the content you produce impacts your performance in other areas.
These tactics should be familiar: If you're an experienced marketer, you should be somewhat familiar with the tactics below. If you're not, you should be able to find the information you need.
Consistency is the key: These tactics won't matter much if they're not applied properly and performed consistently. If you choose to take your foot off the gas, you'll begin to lose progress.
With that in mind, let's take a look at the first tactic.
1. Learn the basics of SEO
When you improve your domain rating, you draw more attention to your business over time. As you build trust in your industry with Google, and your customers, it gets easier to attract their attention.
This is what you want.
Learning the basics of SEO is the first and most important step. Google acts as a gatekeeper, determining whether potential customers see your website or not.
When you enter the keyword "meatloaf" into Google, they use more than 200+ ranking factors to determine which websites to show to searchers and the order to display these pages.
Good, basic SEO starts with things like meta descriptions that increase CTR, targeted keywords, and utilizing keyword variations in your header tags. For example, like this:

Learning the basics of SEO means you're able to create content that's appealing to searchers.
This is essential.
If your content matches searcher intent, people will link to and share your content. Once that happens, Google will rank and prioritize your content, generating more traffic to your site.
What happens when visitors arrive?
2. Verify your website is optimized for desktop and mobile
According to Statista, 52 percent of the world's internet traffic is mobile. Mobile search is growing rapidly as more people gravitate towards smartphones, tablets, and non-traditional browsing platforms. Your website needs to be optimized for both desktop and mobile platforms.
Let's take a look at a commercial example that demonstrates what I mean.
CrowdWorkNews is a business that helps remote job seekers to find flexible and better ways to work from home. When I browse through their site on my desktop, it looks like this: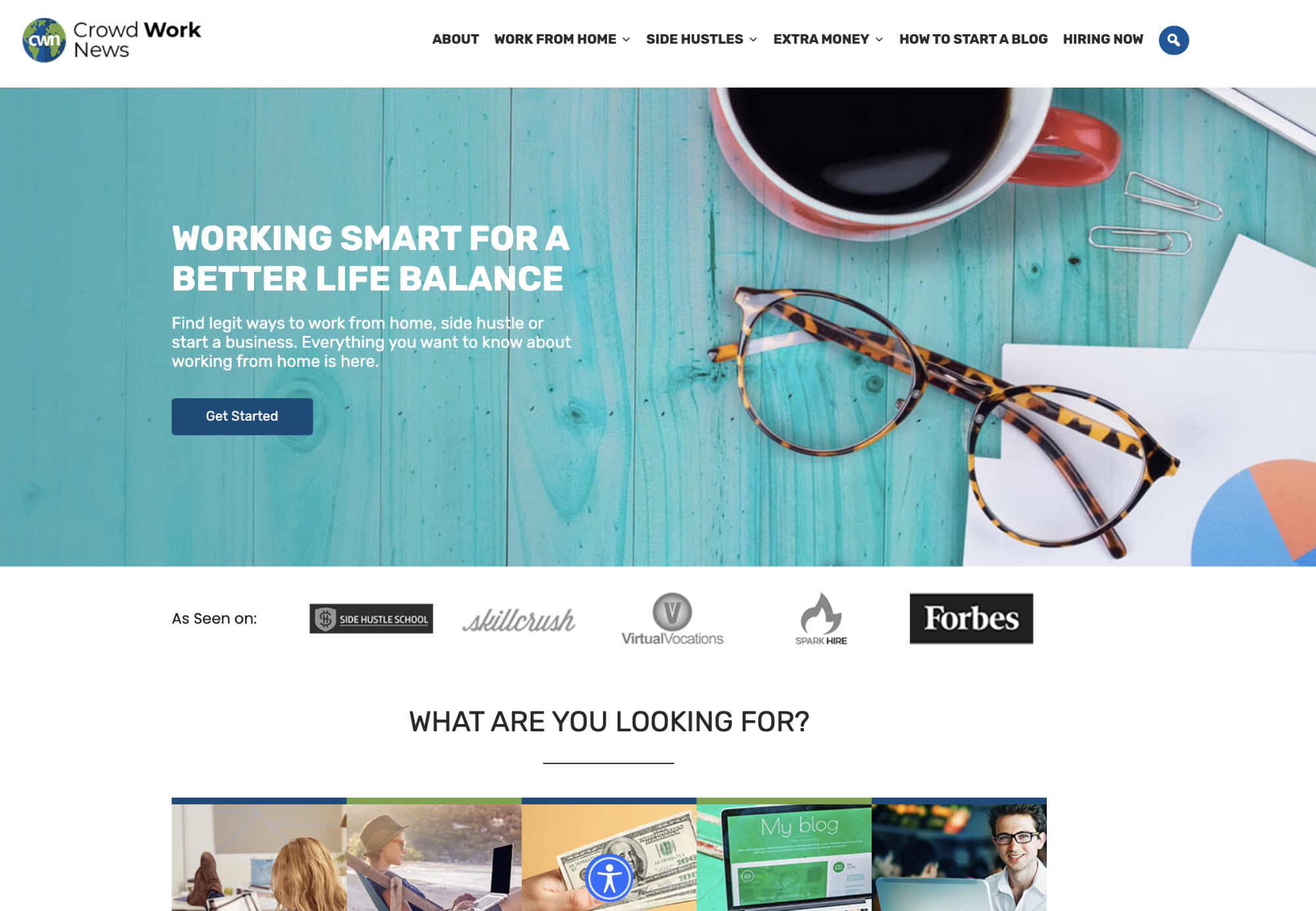 This looks good.
Everything is aligned properly. Their website has good contrast, things are easy to read, and it's easy to browse. How does it look on my mobile device? Here's an example showing how their site looks: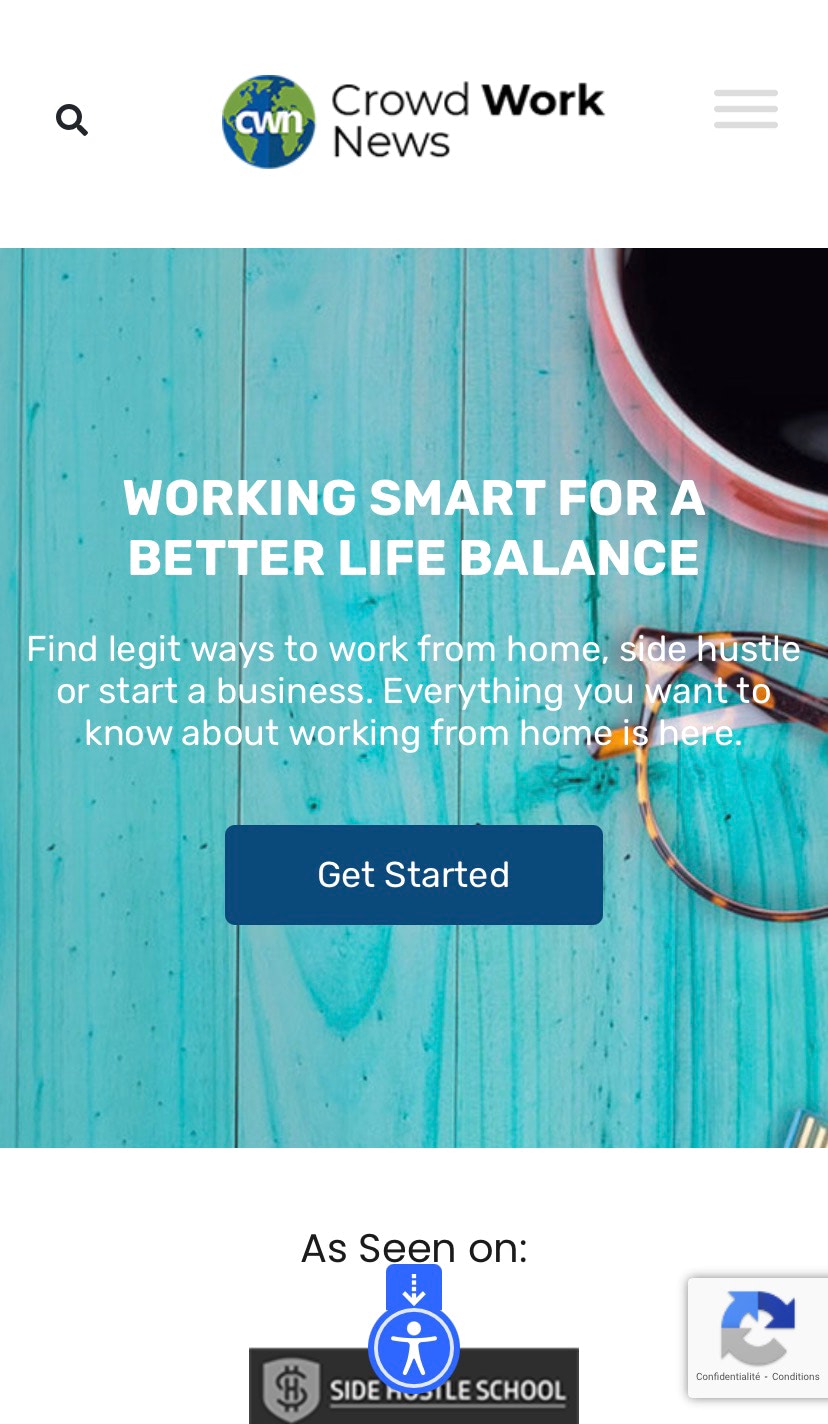 See how consistent their site is?
This is what your visitors want when they arrive at your site, a consistent experience that just works, regardless of their device. They should be able to start their visit on their mobile phone, continue on their tablet, and finish on their desktop, with no confusion, usability issues, or disruption.
If you have a website, this is a required step.
You can't begin to have a conversation if visitors can't engage with the content on your site.
Okay, your site is responsive.
What about accessibility? Can people with disabilities access your website and engage with your content? Remember, you're setting things up so you can begin a conversation with visitors, you haven't actually had the conversation yet.
Here's an example of good website accessibility in action: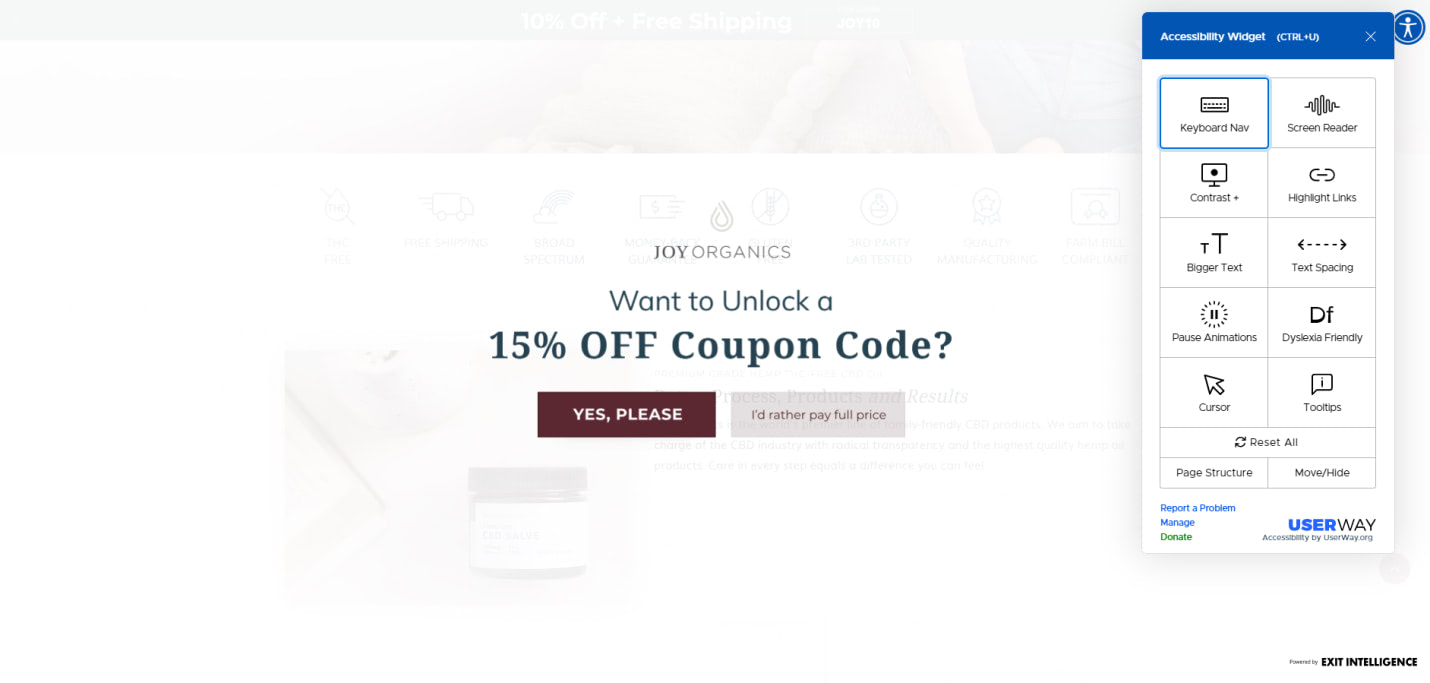 See what they did there?
They've provided disabled visitors a way to change their site, so their browsing experience is ideal. They're able to change font sizes, use a screen reader, change contrast, even adapt your site to accommodate people with dyslexia!
At this point, you're ready to have a conversation.
3. Create exceptional, sharable content
Content is how you attract customer attention. Your customers are searching for a solution to their particular problem. They're looking for educational resources that show them that you've dealt with their specific problem before and that you can solve their problem successfully.
Remember when I mentioned consistency?
This is where it matters most. When visitors arrive on your site, they'll make a judgment call in seconds. They're going to use the visuals they see and the content they read to evaluate your business. According to MECLABS, customers have three specific questions.
Where am I?
Why am I here?
What can I do here?
Visitors are first looking to orient themselves when they hit your landing pages. They're looking for specifics that maintain ad scent — they're looking for a connection to the previous page that brought them to you. Once they've confirmed that they're in the right place, they're instantly scanning your content.
If your visitors are looking for information, they want to see informational content.
Let's do some role-playing.
Imagine that you're having trouble sleeping. You don't really know what the problem is, but you know how you feel. You're exhausted, fatigued, irritable, and emotional. You need help, but you don't know where to start. Then you come across a content library that looks like this: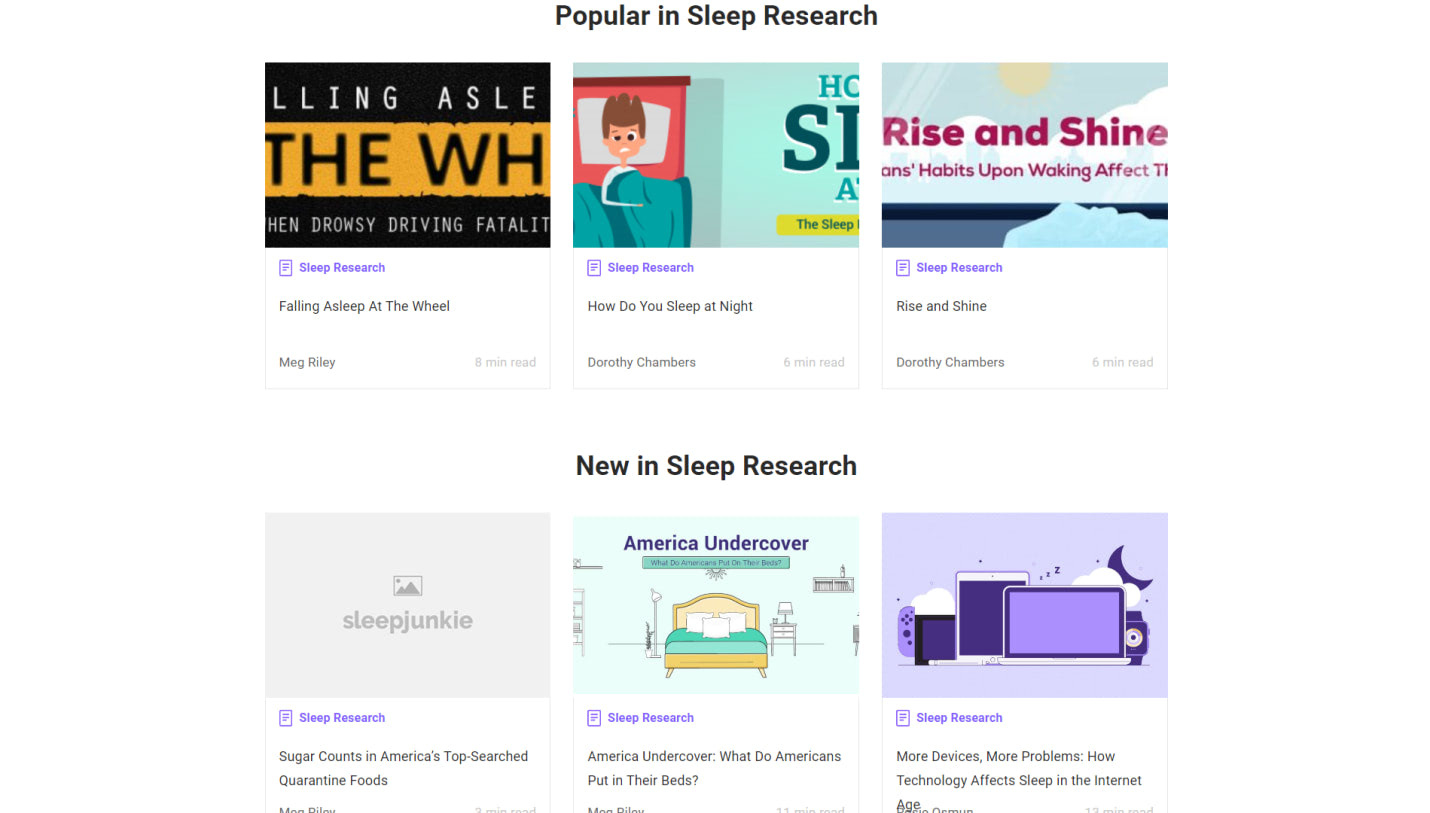 Image Source
Your heart skips a beat.
"Maybe they have the answers I need!" you tell yourself. This, my friend, is what your content library should provide visitors. This is the sort of thing that generates links to your content, shares on social media, and generates lots of press attention.
How does this improve your domain rating?
It boosts trustworthiness. As your site begins to publish reliable content that visitors continue to engage with, your clickthrough rates go up, rankings improve, and backlinks roll in.
From here, you can continue to improve by adding social proof signals, like ratings and reviews. Take Loganix for example: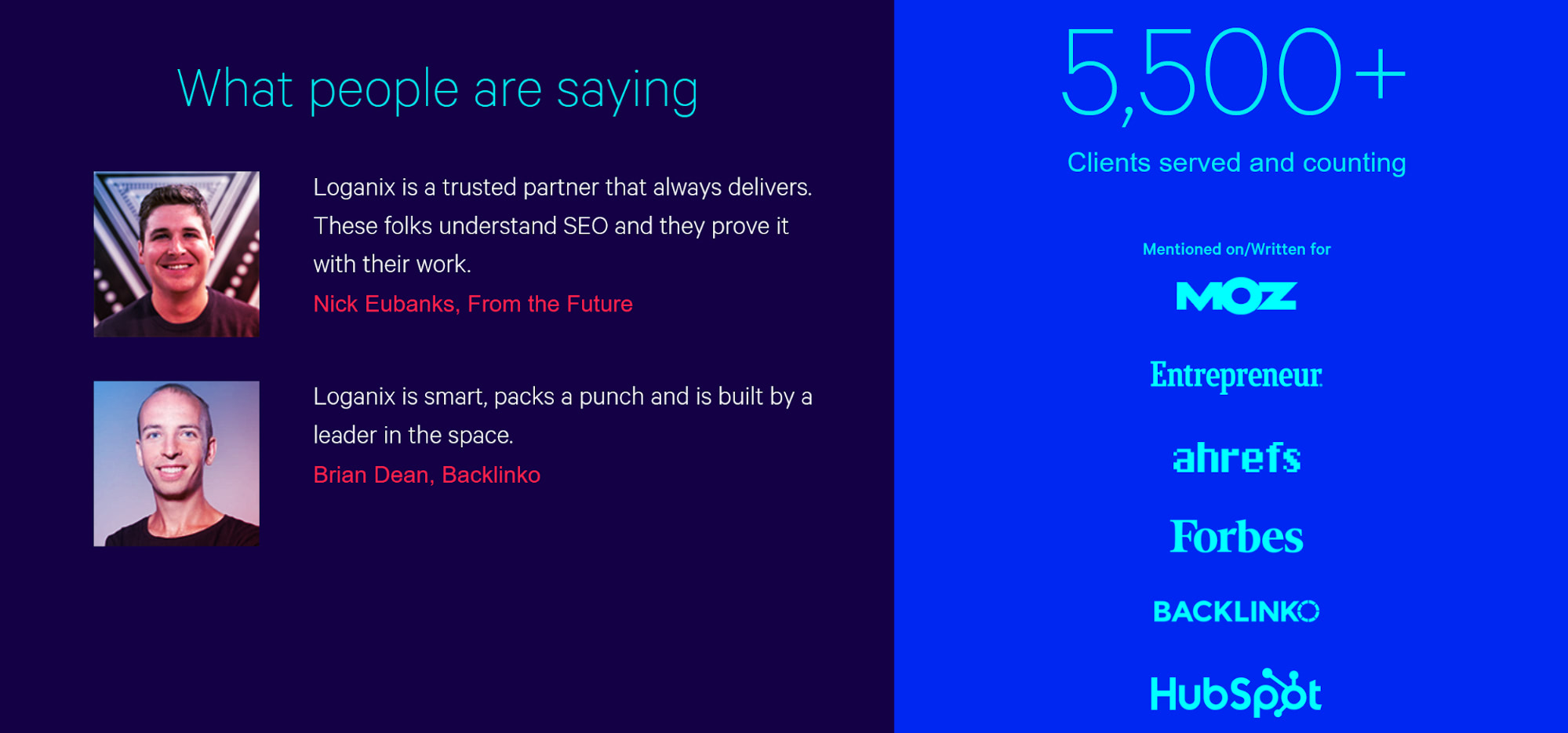 These boost ranking signals and social signals, helping to improve authority. Further, Google rewards your site with more traffic, pushing your domain rating even higher as your site continues to perform.
What if you're just starting out?
How on earth are you supposed to boost your domain rating if you're an unknown with no connections to your name?
That's the easy part.
You focus your attention on guest blogging for publishers who already have a platform. Here's the catch; like everything else, this will require persistence. In the beginning, you'll need to focus on going after the publishers you want. Here are some steps you can take to make guest blogging work for you.
Find the email addresses of editors at top publications.
Reach out to editors by crafting a concise pitch that shows you know what you're doing.
Write the article once you've received the go-ahead.
Pitch editors again once you've completed your first assignment.
These tactics work because you're borrowing trust from an established platform or publisher to boost your trustworthiness, rating, and authority. The more consistent you are with your content development, the easier it will be to achieve results.
But what kind of content are these people looking for? Again, this all boils down to informative and shareable articles. One of the best options in your repertoire would be a series of how-to articles.
Take this example. It's a how-to style article designed to help personal injury attorneys market themselves better and obtain more clients.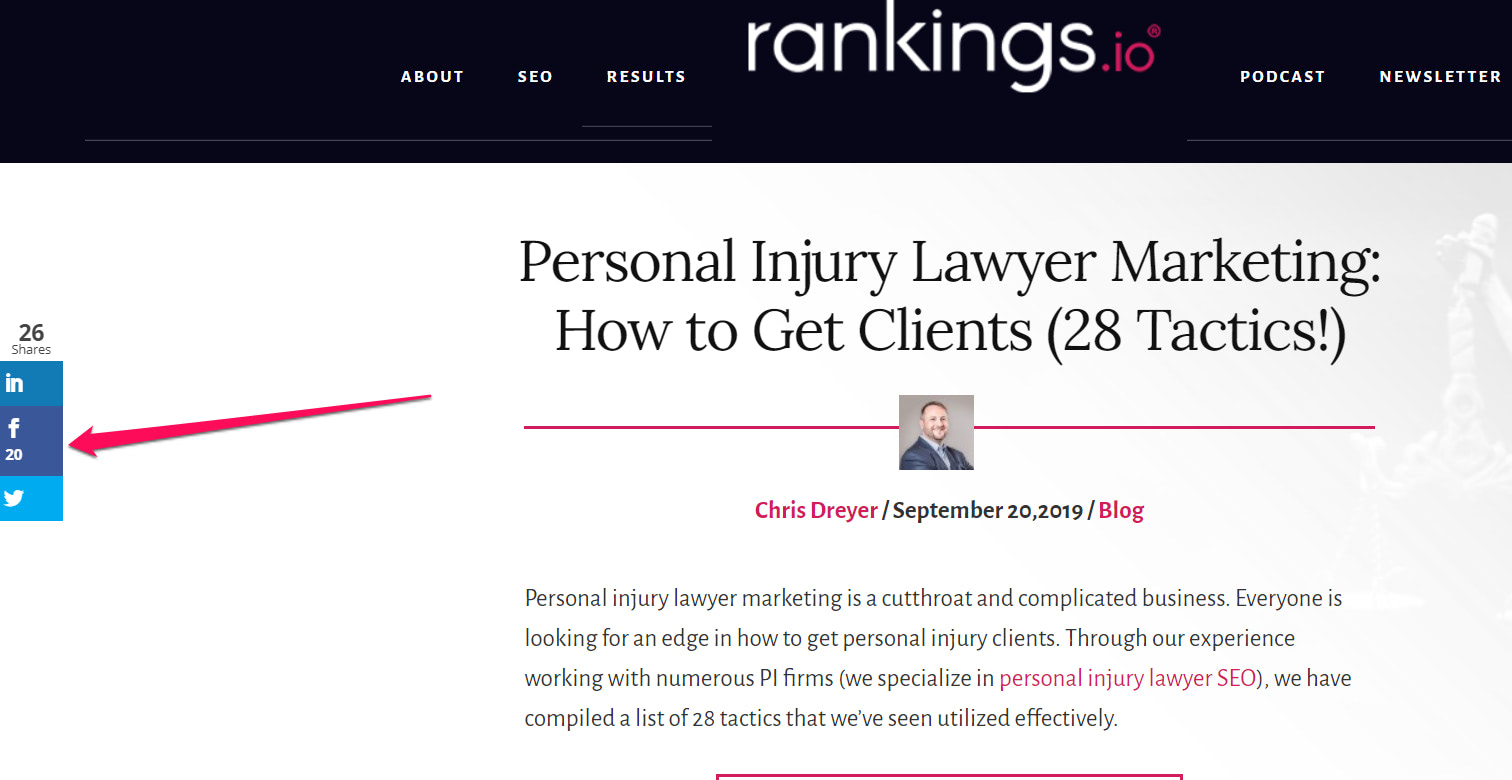 Image Source
Note the left side of the page. There are social media sharing options in a prime location that will allow readers to spread the content around.
Buttons and interactive features like this are important, whether you're pushing content for your own website or on other platforms.
An example from the home page of New Horizons Global Partners shows how to effectively make your website an interaction magnet.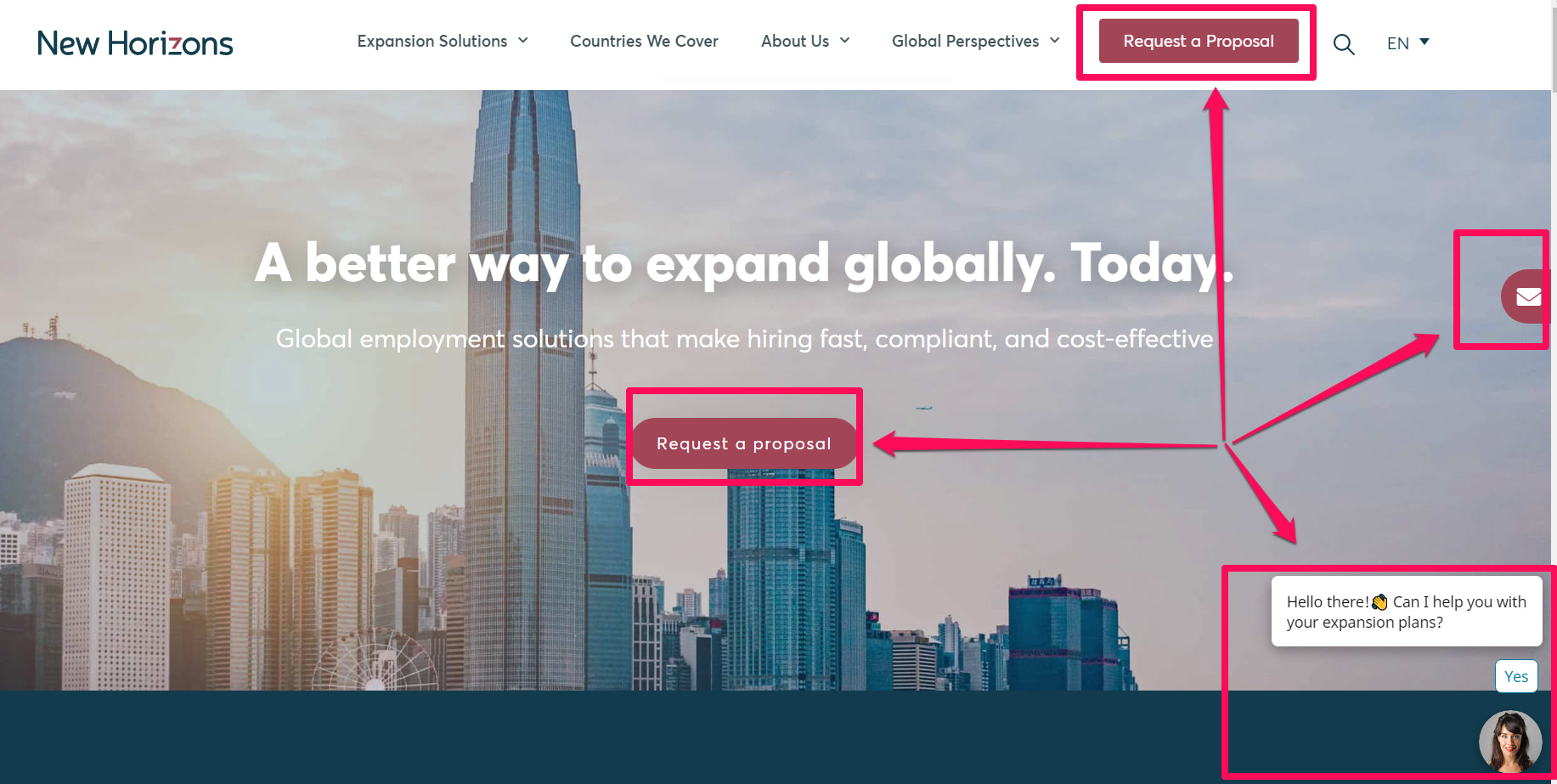 We've got four interactive buttons that appear before the user ever scrolls for the first time.
Create content that has value. Create content that can be shared easily. Provide interactive elements for your readers. Then spread that content to relevant outlets that will increase your visibility.
4. Optimize your website and content
At this point, your website should be well on its way to a better domain rating, better rankings, more traffic, and more revenue. This means it's time for the next step in the process.
Optimizing your website and content.
There are a few areas you can focus on to generate some quick wins. The focus should be on maintaining momentum and scaling results as you go along. You can focus your attention on several areas:
Improving your process: Using tools to increase your publishing frequency, upload content faster, grow the number of pieces you're able to publish in a given month. For example, with the right tools, you can transfer your content from Google Docs to WordPress instantly.
Organizing your content: Content structure and readable headings are critical for optimization and passively acquiring links. Take a look at this example from Venveo:.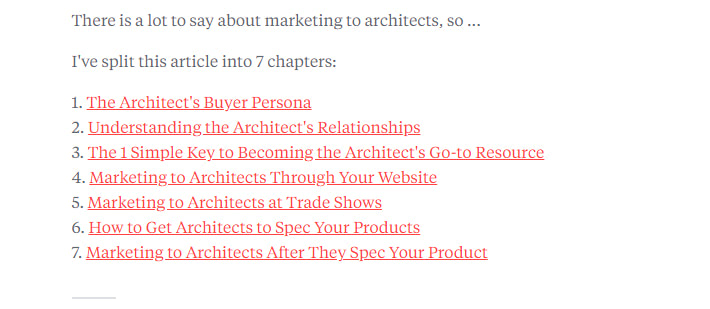 Image Source
Remember, users have specific questions. Optimizing your content around a table of content is a great way to help readers find what they want. There's no need for them to sift through your content to find the bits they need
Investing in Optimization: Methodologies like Conversion Rate Optimization (CRO) or User experience testing (UX testing) are great ways to improve the conversion rate and performance of your site overall. If you're willing to do the work yourself, there are plenty of resources out there.
What if you need results now?
It's probably a good idea to outsource your UX or CRO testing to professionals who can produce the conversion lift you need.
UX testing would identify user issues with websites (e.g., unclear messaging, unresponsive site, inaccessible, etc.). CRO tests this configuration against a treatment to identify the configuration that attracts more customers.
This typically includes:
Copywriting and copy editing
Testing different images
Tweaking the call to action in your buttons
Offering discounts or incentives
Believe it or not, optimization by committee is still fairly common.
Businesses choose to optimize their websites based on the whims of management. This isn't a good way to boost your domain rating or drive traffic. Testing needs to be structured, repeatable, and precise.
Conclusion
Your domain rating is an indicator that your website is performing well in a variety of areas. These websites attract more inbound links; they rank faster and win more first place positions in Google and earn more revenue. Domains that are optimized receive most of the rewards.
You can do it too.
The steps involved are pretty straightforward. Focus on SEO, on understanding how Google engages with your content. Next, optimize your website for desktop, mobile, and the disabled. Create amazing and shareable content. Finally, optimize and iterate — work to improve your website consistently. Follow these steps, and you'll improve your domain authority in 90 or less.