In general, universal sets of icons are sufficient to complete a design and enrich it with visual cues. It is a minimal and painless way to make UI more intuitive and intelligible. However, even in such cases, as a rule, you have to refine, modify and even create some extra items to fill the gaps. To find an exclusive pack of glyphs that meets your needs is a pure luck, especially when it comes to specific areas, for example, websites dedicated to interiors or hardware.
You have to leave no stone unturned to find the best match. So that by and large you are left with no other choice but create the toolbox from scratch. If you currently experience such situation, we want to offer you a list of narrowly targeted icon sets that are a perfect source of inspiration.
They can serve as a starting point or maybe you will be able to find here a missing piece.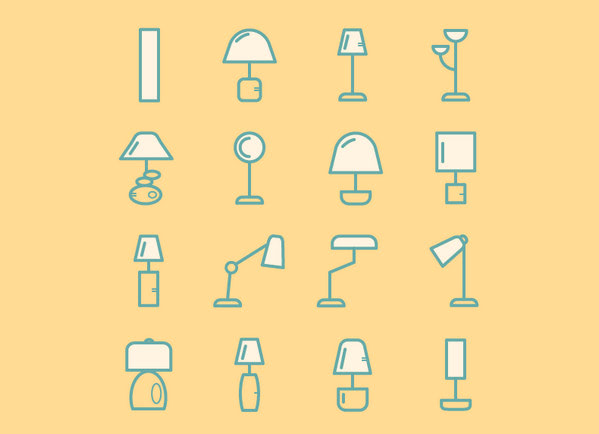 Bajour Design Icon Set by Alessio Granella is well-suited to various interior-related projects. Light is an essential element in this sphere, and the artist showcases a great variety of lamps, including floor lamps, desktop lamps, and others.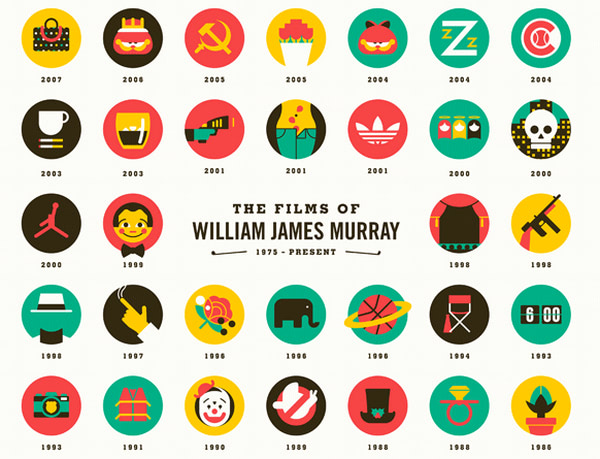 This matchless and vibrant project is an amusing tribute to one of the most beloved American actors. Each item is a skillful representation of a movie presented with the help of flat style. The team has traced the career from early 1975 till nowadays. Here you will find fancy and highly recognizable icons that symbolize Ghostbusters, Groundhog Day and others.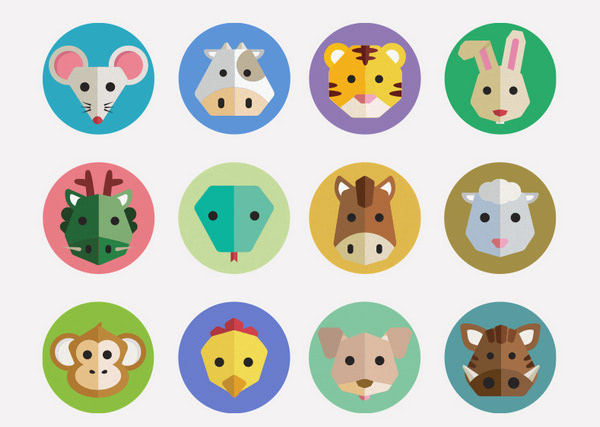 The kit embraces all the twelve animals that play in the Chinese culture a significant role. Each tiny illustration looks bright and positive: harmonious color palette and flat style produce friendly aesthetics.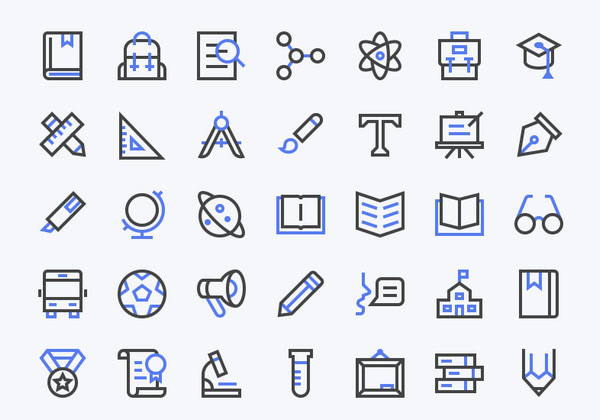 Nucleo – School & Education by Sebastiano Guerriero is a bunch of a subtle line style icons that get their beauty from gorgeous two-tone coloring. The artist skillfully leverages dark to delineate the main shape and pleasant shade of blue to mark important details.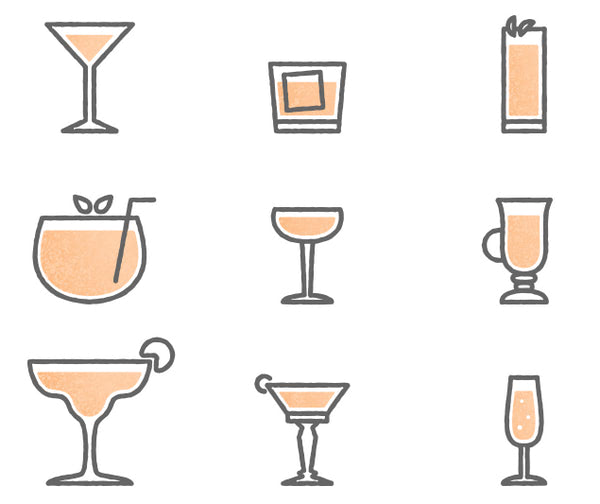 If you are frequent visitors of pubs and bars, I guess you can easily name each icon. The pack includes items that elegantly illustrate the most popular cocktails. Vector realization makes this set universal and suitable for numerous interfaces.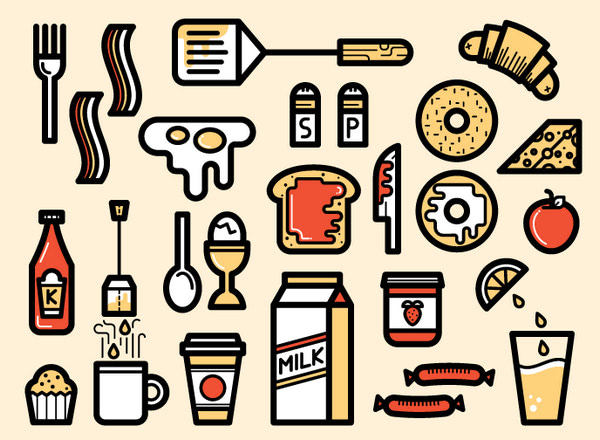 Driven by the fact that breakfast is considered to be the most important meal, the designer has skillfully crafted a special set of icons. It exemplifies common and traditional food and drinks inherent to morning meal. There are eggs, bacon, juice, muffin, cup of coffee and much more.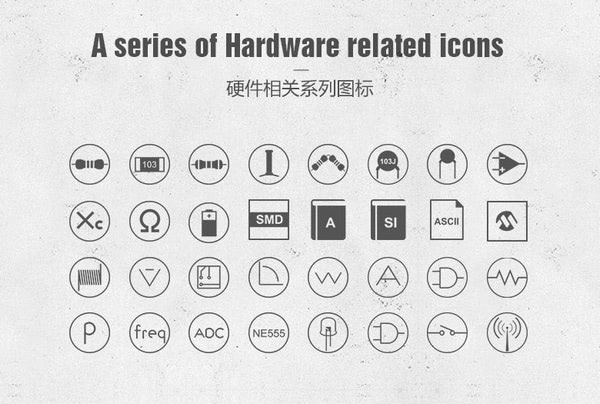 A series of hardware related icons by 张小早 will be understandable only to a narrow circle of specialists. Clean grayish coloring, plenty of white space and line style provide each item with a proper techno atmosphere.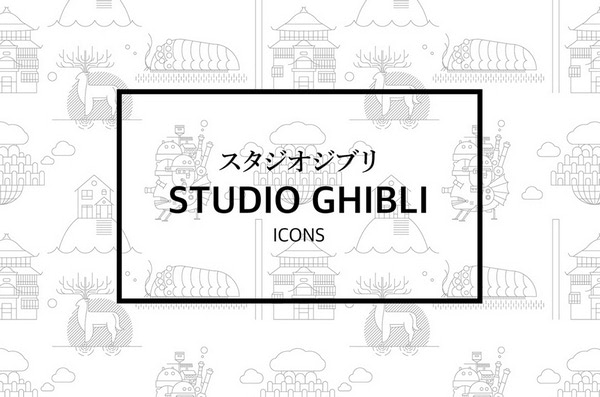 The pack is dedicated to all the fans of animated movies produced by one of the most innovative and inventive Japan studio. Although it includes only several tiny illustrations, yet it displays the most iconic cartoons.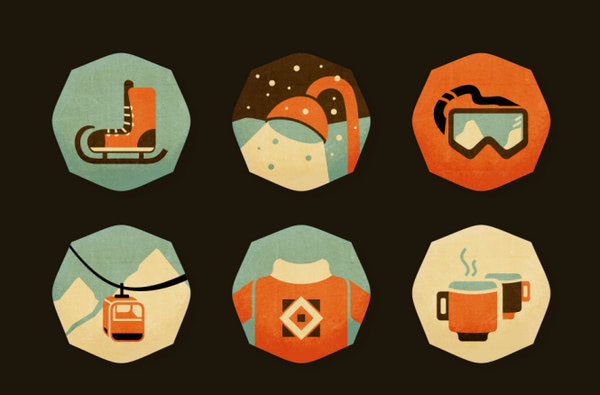 Winter ( #1icons) by Szende Brassai / Adline is marked by a powerful retro feeling and artistic appeal. Although the package is not relevant and topical all the time, yet in the coldest season of the year it certainly rules the roost. The splendid flat realization and smooth geometric shapes break it away from others.
Pets Icons by FireArt Studio are intended to finish off the appearance of any online animal-oriented store or vet clinic. These small bright highly detailed illustrations can be used as visual cues or icons for improving navigation.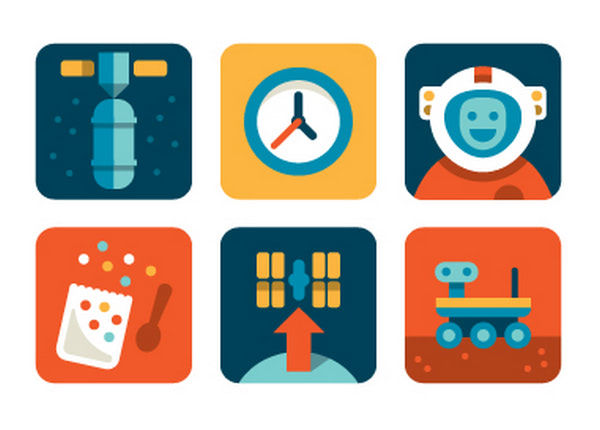 The artist gets the most out of flat style, giving each item sophisticated, intricate, vibrant and most importantly not overwhelming appearance. He is even managed to add dimension to some parts through vigilantly faked shadows and crafty difference in color shades. The pack is a variation on a cosmic theme.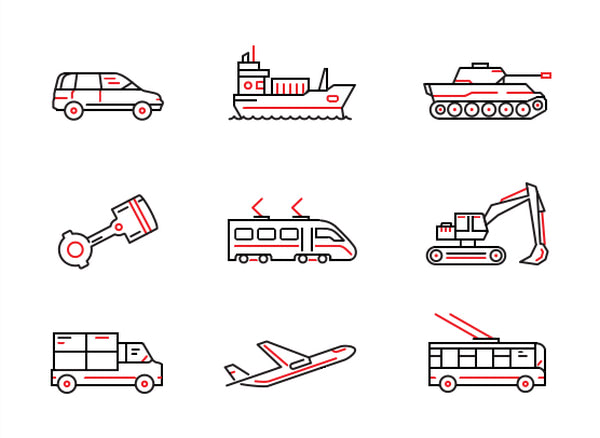 Forum Icons by Andy Selimov is a fresh and contemporary take on displaying types of vehicles. There are a traditional car, bus, ship, plane and some unique ones such as a tank or excavator. The artist masterfully plays with a two-tone coloring, making each item look visually interesting.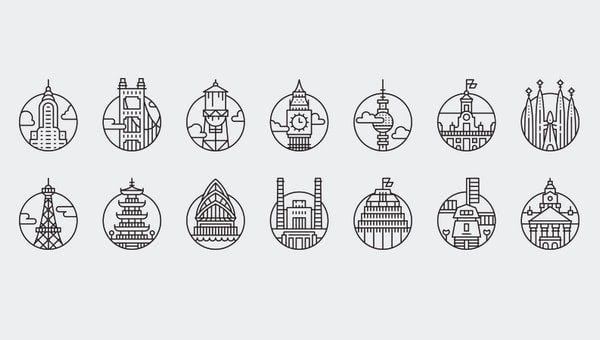 City Icons for Offscreen Magazine #5 by Adam Whitcroft are highly detailed pieces that thanks to line style and moderate color palette do not overpower viewers, but on the contrary, look engaging and appealing. The artist presents each famous city via its notable city landmark.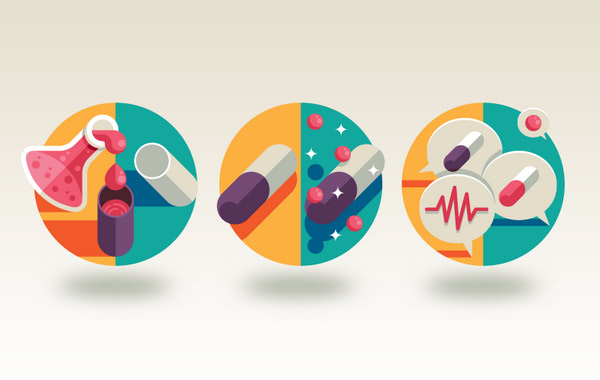 Modern medicine by Marco Goran Romano is a set of 3 complex and intricate icons that charm with a plenty of details, unique flat style realization, and bright color scheme.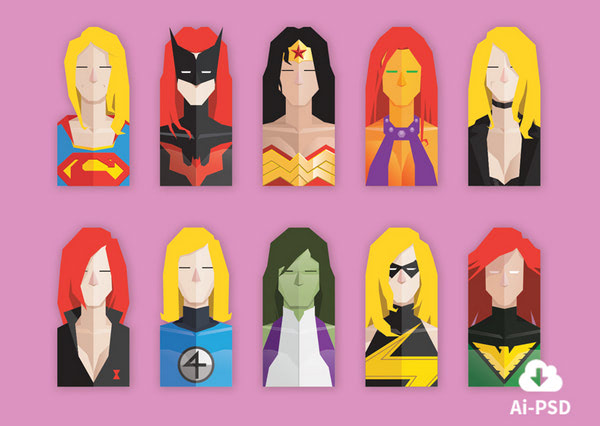 There are lots of packages of icons that illustrate popular superheroes. Nevertheless, when it comes to super heroines, they always stay overlooked. However, it was until Dimitrios Pantazis, who kindly created an eye-pleasing bright and energetic series of women with extraordinary abilities. Which one is your favorite?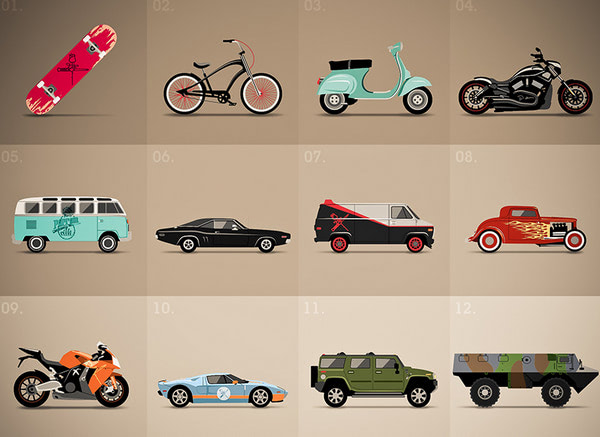 The kit comprises visual representations of vehicles, including skateboard, bicycle, motorcycle, car, sports car and others. These tiny vector illustrations with lots of distinctive elements and extra decorative touches look refined and splendid.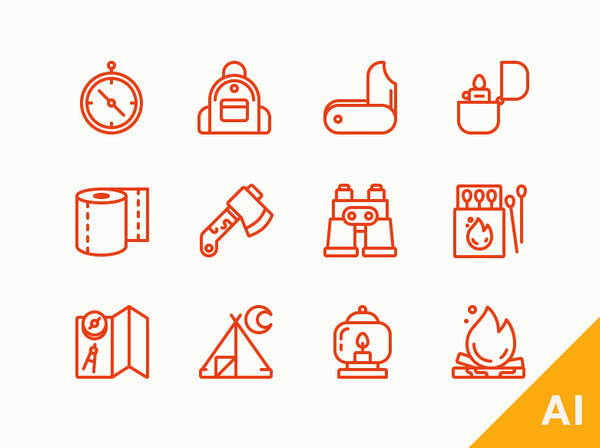 The artist offers a dozen of sleek outlined icons that are made in a camping theme. Here you will find the essential stuff such as compass, backpack, binoculars, map, matches, hatchet and other elements that are associated with this type of outdoor activity. The package is free, download it and use in your projects.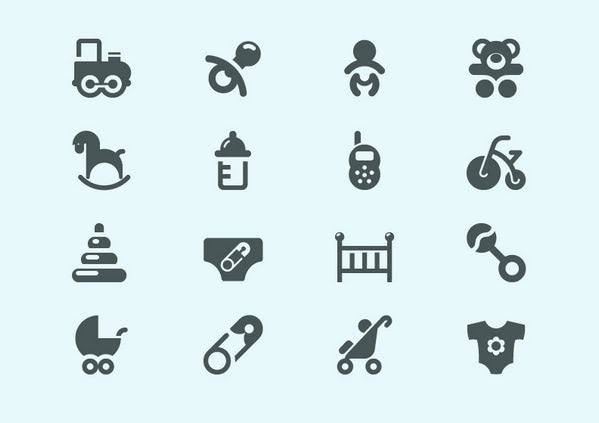 Baby Set by Ion Popa has a neat and solid appearance. Although bright coloring probably would look more suitable and harmonious here, yet monochrome realization still has its benefits. It fits lots of interfaces and can serve as a base.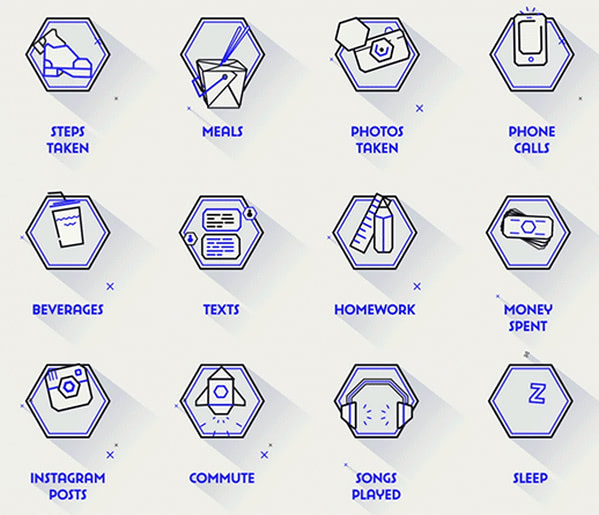 The artist demonstrates an animated set of icons, where each item symbolizes period of time. Thus 6h is for a sleep, 11h is for photo taken, 21h is for money spent, and so on.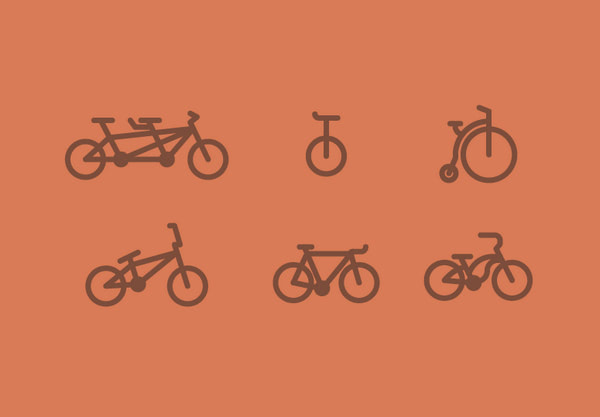 The set is not so vast, only six items, yet it tries to roughly embrace the whole range of bicycles and neatly embody each type. The solid clean line style and nothing excessive give each icon a sleek and soft appearance.
Conclusion
You may say that baby icons, landmark icons, vehicle icons or camp icons are not so rare, however much like lamp icons, hardware icons, icons dedicated to William Murray or super heroines that undoubtedly are limited and almost one of a kind, they are narrowly targeted.
All of the listed above examples are infrequent guests in both free and premium packs. They are destined to be uncommon and exclusive. Moreover, they bear an interesting idea, boast of skillful performance and best communicate the message without extra aids. We hope you will find here creative boost for your next project.