Imagine a situation where as a company, a business or an organization, there is no compromise and there is convenience on the security that helps in the growth of your team through making your legacy apps, mobile apps, desktops and other multiple platform's identity management automated – the cloud management system.
What is TeamStack?
TeamStack is an easy solution that was founded for cloud identity management. The TeamStack was developed from an already built extensions and integrated apps that can be easily accessed by a one-click and single sign-on provisioning. It acts as a multi-factor authentication system where the whole team can sign in to any application without the need of always have to put passwords on and on.

A lot of experience has been developed from this system and it is being used in setting up a lot of companies and we have seen teams a lot of companies around the world trusting it. What happens is that your company will immensely grow because this self-service setup helps you to get enterprise grade consultancy, get your idea going as well as in migration support. Your software stack is therefore not required to be changed.
Why Use Team Stack?
One thing you should know is that you should never compromise your security for convenience. You should have both. By automating identity management for your various multiple platform – with TeamStack – your company as well as your team grow seamlessly.
TeamStack key features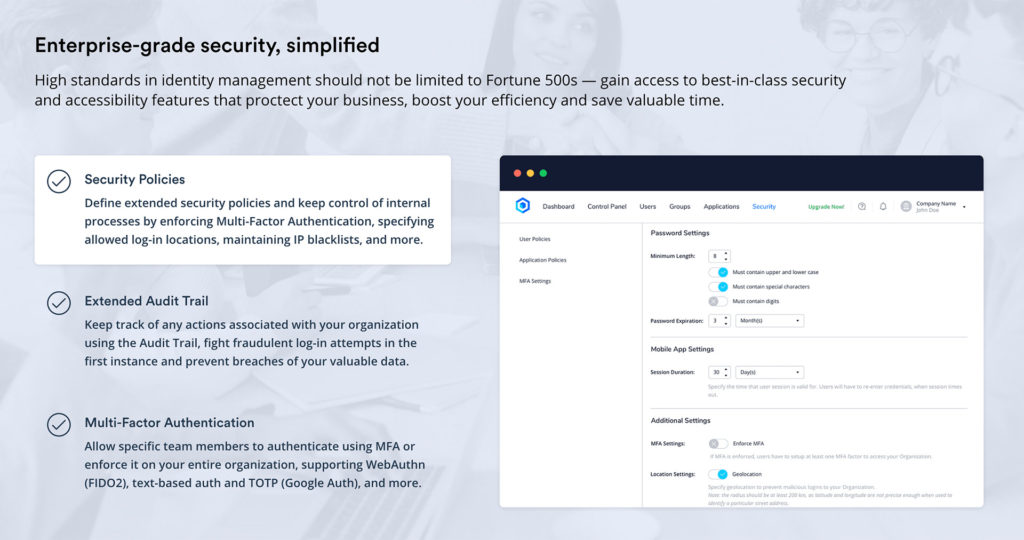 Cloud directory
Secure Cloud Directory
You can manage authentications methods, groups, users and permission levels through Teamstack's Cloud Directory in a secure and intuitive web interface. It allows:
User suspension
Secure store passwords and users
User application and group management
Activity logs for an individual user
Customizable Group and User Profiles
You can customize a group or a user profile to specific settings and policies on any level. You therefore have full control over your teams and organization.
User permission levels
Authentication profiles
Application assignment
Multi-factor authentication
Real-Time Synchronization
TeamStack synchronizes users in real-time and this ensures that your data is always up to date. This also improves the process of onboarding and safeguards against users who are fraudulent.
Off-boarding leaving employees
One-click provisioning
Cloud directory integrations
Security and compliance improvement
One-Click Provisioning
Increase security
For your off-boarding and onboarding processes using one-click provisioning will have changes in the team reflected on the business applications and this ensures that terminated or rogue users are immediately disconnected from your applications making the risks minimal.
Unauthorized access risks are reduced
User identity is made single source
User access in real time is suspended
User access is visible
Provisioning of automated group-based applications
Deprovision and provision of users is automatic based on the user groups ensuring that employees have easy access to all essential applications regardless of whether it's a new hire, termination or a change of role.
Termination
New hires
Change of role
Off-boarding and onboarding streamline
Manual user provisioning is prone to human error and laborious. Off-boarding and onboarding process is streamlined by the One-click user provisioning and this frees up time and allows new hires to get up and run immediately.
Single Sign-On
Improve productivity
You enter credentials once as a single-on user to access applications. On signing into TeamStack you can access all applications from the dashboard and it tightens security as well as increase productivity.
SAML apps
Browser extension with form based authentication
Application dashboard
The dashboard of TeamStack is integrated with 100s of applications out of the box that allow you to access or get an overview of any applications that you have been assigned to directly without the need of entering any credentials. New apps are also added regularly and you can also request you preferred applications.
Telecom apps
Mail apps
Software development apps
Marketing apps
Browser extension
Users are able to move between applications with ease without authentication every minute if they access their applications through the Teamstack's browser application.
Brave browser
Mozilla browser
Edge browser
Google chrome
Yandex browser
Multi-Factor Authentication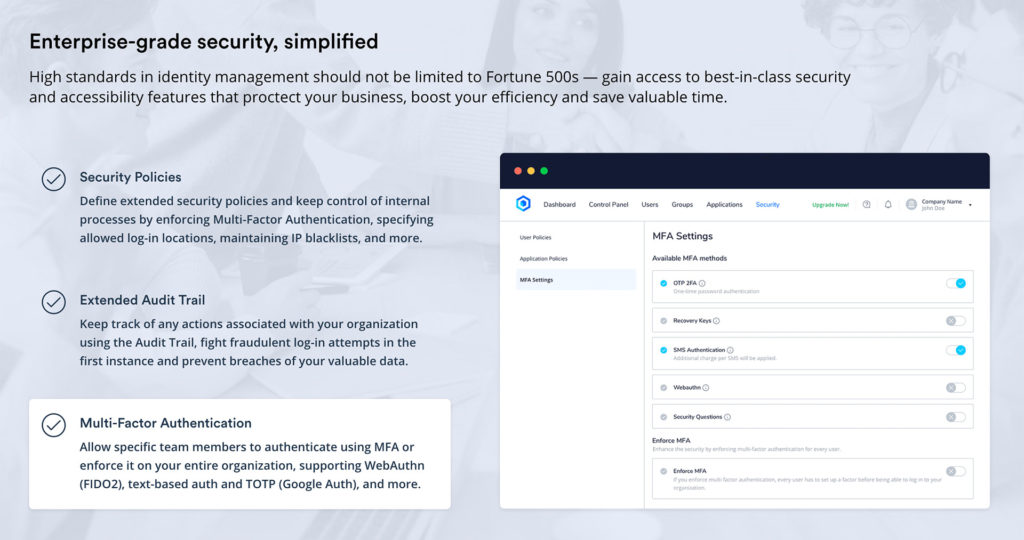 Multiple factor types
When you apply different authentication factors that range across different levels of security, unauthorized access to your whole organization is protected against. At the same time users flexibility is maintained.
SMS code
Recovery codes
WebAuthn (FIDO2)
Security questions
TOTP (Google Authenticator)
Context based denials
Applications that contain sensitive data based on contextual factors should be completely restricted. By doing this you deny access from IP addresses or high-risk locations.
Incident reporting
Audit trail
Policy based MFA enforcement
To implement additional authentication factors or restrict access to authorized users only for the sensitive applications, set application or user policies. Also you should specify password credentials to specific users.
IP Blacklist
Geo-location
IP Whitelist
Biometrics
TeamStack Pricing
TeamStack offers its users with three packages that one can choose according to their needs.
Free plan
With a valid card you can get 6 free months with the following claims
Basic Multi-Factor Auth
5 users
4 FBA apps
1 SAML app
Basic plan
This is the standard package which offers limited amount of applications and the basic customer support. It costs $3 per user per month. Its claims include:
Basic support
Up to 25 users
Single Single-on
5 SAML apps
50 FBA apps
Desktop and mobile devices
Professional plan
This is the advanced identity plan with management tools and has a prioritized customer support. It costs $4 per user per month. Its claims include:
Up to 200 users
Single Single-on
Priority support
20 SAML apps
100 FBA apps
Desktop and mobile devices
Enterprise Plan
If you would want more, then you contact support for a quote.
Its claim include:
Unlimited Users
Custom solutions
Unlimited SAML Apps
Custom security policy
Unlimited FBA Apps
Extended audit
Single Single-on
Service level agreement
Dedicated support
Desktop and mobile devices
TeamStack Pros
Pros
Easy to use
Time saving
No more hassle with passwords
Cons
Conclusion
If you want to contact TeamStack then you can visit their official website. Alternatively, TeamStack has its alternatives which include Zoe, CodementorX, Scale but I would recommend TeamStack for you.