RankTrackify is an eccentric keyword checking tool that is used almost every day. RankTrackify – a part of SEO tools – is one of the most intriguing amongst the different trackers. As well as offering a great look to your keywords' ranks in a great package, the software also allows you to look at how and why your competitors are outranking you.
It is, therefore, vital for every business owner to invest in this tool. But before having one, you must understand clearly what RankTrackify is, has, and offers what. That is why I went deeper into finding more extensive work and full capabilities of RankTrackify. When you understand all features and capabilities surrounding this tool, you become critical in gaining competitive advantage, and in so doing, you can easily win.
I have found enthusiasm for this tool and let me show and explain to you why! Shall we?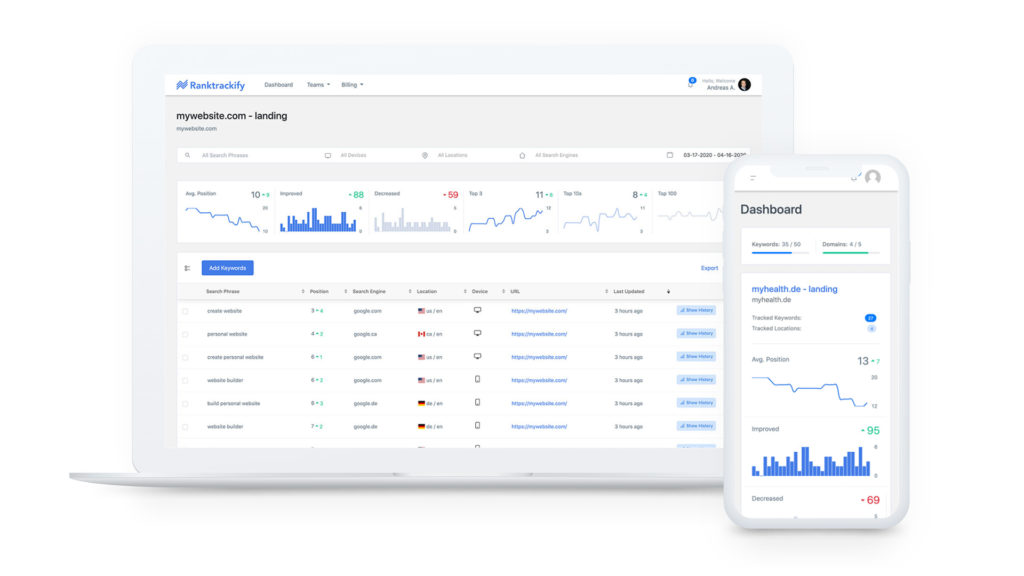 Key Benefits of RankTrackify
Although there are many keyword rank trackers in the market, they still come with their shortcomings. One of their share of issues is that they can, at times, be agonizingly slow. Per session, others will only run checks on groups of a maximum of 10 keywords and, even time out. Some rank checkers also can be wildly inaccurate. In point of fact, after running a ranking report in most checkers, as a result of trust issues – on the results –, you are manually forced to double-check the individual SERP listings. RankTrackify, however, has none of these paucities. On using RankTrackify as your ranking checker, the following are some of the benefits you will get:
Accuracy
Do you want a spot on results? RankTrackify is the real deal for you. And as we have seen earlier, most of the rank checkers wildly inaccurate. Nevertheless, if you diligently spot-check RankTrackify's search engine ranking alongside different data centers, you will realize that the results from RankTrackify are enormously accurate.
Speed
Of the benefits of RankTrackify is that it is fast. If not the fastest, it is one of the quickest rank checkers that you can use. In under one minute, RankTrackify can run a rank check for 200 plus target keywords and spit out the results for Yahoo, Bing, and Google.
RankTrackify offers the following range of possibilities:
Mobile tracking
Extensive reporting
International targeting
Whitelabel reports
Smart filters
Intuitive charts
Team management
Daily keyword updates
Key Features
Keyword research
The first thing the team at RankTrackify understood was that everyone expands their portfolio of keywords constantly so that they can easily explore new traffic opportunities. To let you find niche keywords, RankTrackify has currently added 14 onboard keyword suggestion tools. These suggestion tools further evaluate the competition and check search volumes.
Safety features
Certain search engines tend to block you when you make multiple checks temporarily. To avoid this blocking, RankTrackify has built-in enhancements – advanced search safety features including proxy rotation and human emulation – and they let you make multiple checks without necessarily getting to be blocked.
User interface
Team RankTrackify created a highly functional and easy to use UI. The RankTrackify UI is the cleanest amongst most rank checkers. Although making simple and clutter-free UI is not easy, it's fortunate that RankTrackify has alleviated this situation.  
Historical rank tracking
The RankTrackify will always show you your ranking variations every time you check your rankings. In that method, you will see when or if your site has been moved up or down. After seeing this, if need be, you can take the indispensable steps that can intervene. Additionally, if you have your own private rankings datacenter, you can save all your rank tracking projects and access them any time you want.
Auto-pilot tracking
If need be, you can also track your rankings on auto-pilot. Here you set the tracking tool once, and it automatically runs rank checks for you depending on the set dates and times.
Limitless keyword tracking
With the RankTrackify tool, you can impose no domain or keyword limits as well as track rankings in over 590 search engines.
Reporting functionality
The slickness and professionalism of RankTrackify's reporting functionality make the tool endearing. While you want to create a ranking report for WordStream's internal distribution or clients, you can choose the following option:
The preferred option of delivery: in this you after saving a report to a computer, you FTP it directly to any website or shoot it in an e-mail around clients.
Reporting format: in this, you create HTML or PDF Browser-based report's version
Through the reporting functionality, you can also make the stories look more professional by tailoring them with client logos, physical addresses, and web addresses. You can further customize the reports with a multiplicity of templates.
Creating an account
Getting started requires just a few clicks. Within a couple of minutes, you are ready to go. Some of the instructions include:
Sign up by providing your basic information (personal and companies credentials)
Enter your keywords and depending on the location you want to check ranking positions from, choose your preferred location
Now, allow RankTrackify to do the work for you and draw your conclusions
By signing up, you are eligible to start a free trial account. In a free trial account, your credit card credential are not required.
The trial offers with the following packages:
14 days of free trial
50 keywords
Five websites
Daily keyword updates
Plans and Pricing
RankTrackify's pricing is exceptionally simple and fair. The pricing system is flexible and therefore any company or project regardless of the size.
RankTrackify premium plans are:
Extra Extra Small Plan
The plan goes for $6 per month on paying annually. Otherwise, it goes for $7 per month on paying monthly. It offers the following packages:
50 keywords
E-mail support
Five websites
Reports
One team member
Daily keyword updates
Small Plan
The plan goes for $22 per month on paying annually; otherwise it goes for $27 per month on paying monthly. It offers the following packages:
500 keywords
Premium support
50 websites
Reports
Three team members
Daily keyword updates
Large Plan
The plan goes for $78 per month on paying annually. Otherwise, it goes for $97 per month on paying monthly. It offers the following packages:
3000 keywords
Premium support
300 websites
Reports
Ten team members
Daily keyword updates
Pros and Cons of using RankTrackify
Pros
Rankings are pretty accurate
You can track ranking from virtually all Ilocations and search engines
It can show you the page that ranks for a certain Keyword
You can also track the visits you got from a certain keyword via Google analytics.
Data can be sorted and filtered
Ranking history can be shown via a Line Graph
Cons
You must run it constantly to track your rankings as it's not automatic
You need your won proxies
You pull data for one client at a time
Wrap Up
RankTrackify is the perfect tool to rank your search engines with. In marketing departments, it has become an indispensable tool.