If you have considered and you want to start some business, 0nline business for that matter, then you must think about website security. This means that an SSL certificate purchase is prerequisite. SSL (Secure Sockets Layer) certificate is a key component when connecting two computers. For e-commerce sites, both service and retail oriented, for instance, an SSL certificate is vital because it's central to encrypting data stream running between different machines.
Therefore it is a necessity to have your website's encryption being managed by a recognized SSL certificate. Information such as payments and passwords must be sent through private and secure connections. SSL or Secure Sockets Layer, through its encrypted gateways, is a security mechanism that establishes a secure private connection – Transport Layer Security – between a web server and a browser. Having an SSL certificate on your website ensures further that Google does not flag your site as potential visitors' threat.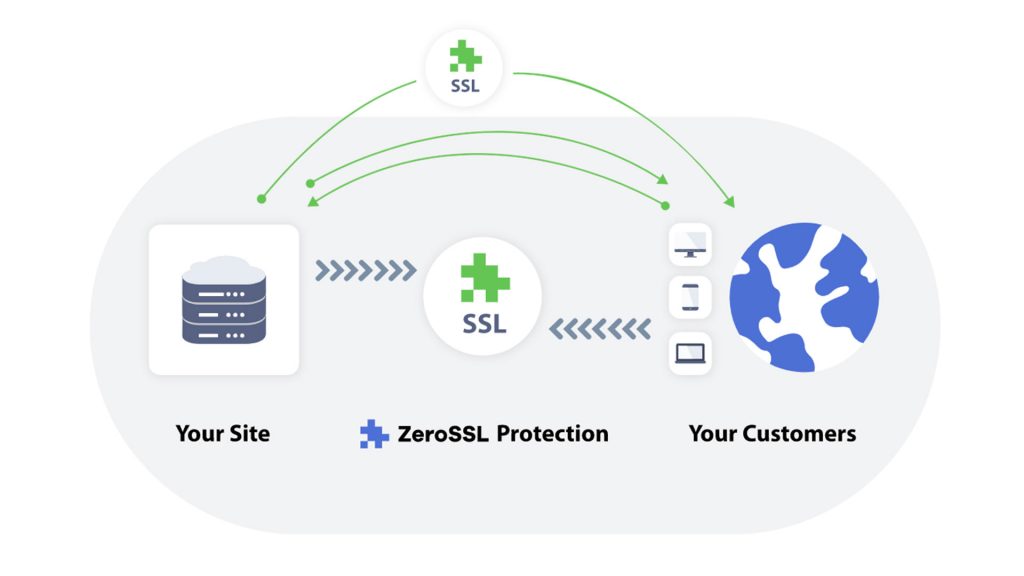 Now if you combine security and SEO, SSL becomes very vital for any website. This is because you can use SSL to decide the ranking position of a website in the search results. One of the best SSL certificates I can recommend is the ZeroSSL.
What is ZeroSSL?
It is of utmost importance to secure every web application using an SSL certificate. ZeroSSL is a fast and easy way a person can obtain and set up a free SSL certificate on their website. For a user to create website security certificates, ZeroSSL allows them to use straightforward and fast user interfaces, that is, either through full-fledged SSL REST API or ACME integrations.
Since its release in early 2016, ZeroSSL has been used for setting up and installing free 90 day SSL certificates issued by third-party vendors. As a result of the rapid growth user base – to more than 500,000 customers worldwide, ZeroSSL has become a trusted certificate that issues authentic SSL certificates that support single-domain, multi-domain and Wildcard certificates. You still have an option of choosing the span of the validity that you want.
Why is ZeroSSL different?
The priorities that ZeroSSL has that sets it apart from the majority of the other SSL certificate providers include:
Usability
One of the essential characteristics of an ideal SSL certificate should have is the ability to provide and give customers complete intuitive control and transparency as far as SSL certificate management is concerned. On realizing this, the team built a fully-edged SSL management user interface. The user interface further comes with no additional cost as well as easily enabling customers to keep track of existing certificates and creating new certificates.
Accessibility
ZeroSSL has always been for the idea of offering SSL protection to customers for free or at low monthly rates. They try to ensure that not a single person or a business should struggle to get an unshakable certificate. This is one of the reason you will find out that in their Free Plan, you can get up to five 90-day SSL certificate.
Automation
One of ZeroSSL's beliefs is that web essentials such as SSL certificates should be fully automated; the reason as to why they offer REST API interface SSL certificate management. Tasks that were manually handled in the ZeroSSL UI are currently automated. Additionally, ZeroSSL is supported in all major worldwide ACME integrations.
ZeroSSL REST API
ZeroSSL now comes with a straightforward and fully-featured SSL REST API. Therefore, with a ZeroSSL certificate, tasks that were manually taken care of in the management console are now automated.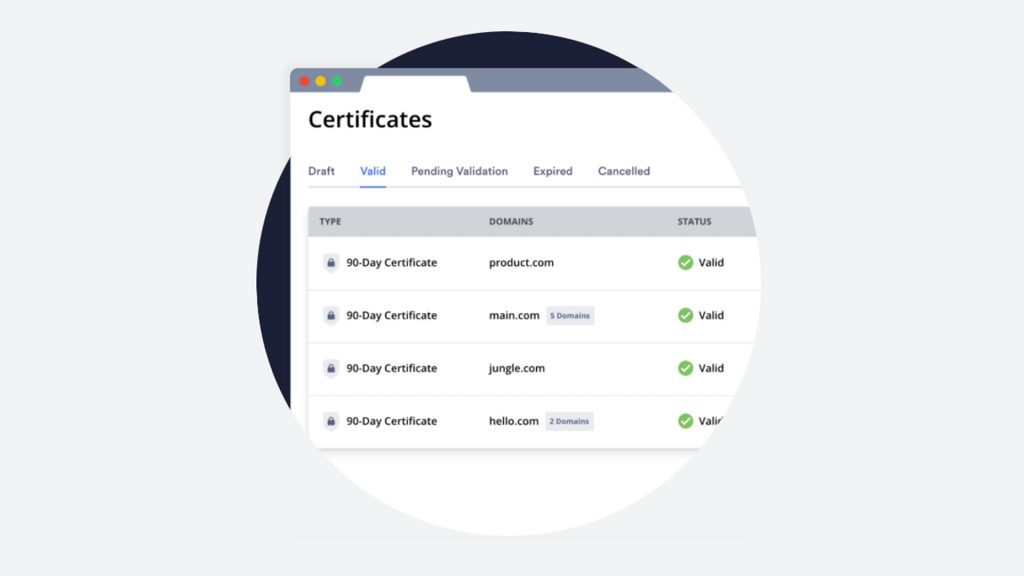 Key features
SSL Automation: By integrating SSL with REST API, ZeroSSL is put on autopilot supporting JSON responses, and HTTP GET calls
Bank security: any data streams that are sent to the or from ZeroSSL API are protected using 256-bit HTTPS encryption. Private information is therefore safe
No Extra charges: accessing ZeroSSL REST API is unlimited and free in API request volume for customers subscribed from Pro Plan and higher.
Scalable and powerful: the SSL API is built on top of a rigid, indefinite and scalable cloud API infrastructure that can handle millions of request per month.
Among the automated tasks include:
Listing certificates
Validating certificates
Validating emails
Creating certificates
Deleting certificates
Certificates cancellation
Getting validation status
Downloading certificates
ZeroSSL API documentation is extensive with integration guides as well as code examples in all critical programming languages waiting to be reconnoitred.
ZeroSSL Features
SSL certificates
You can secure your web presence using a rock-solid 1-year or 90-days ZeroSSL certificates. Trusted by 99.9% of web users, the certificates support wildcards, quick renewals as well as multiple domains. For the 90-day certificates you sign up for free, and installation is free. You will stay out of threats by and have secure customer transactions by getting a ZeroSSL Premium 1-year SSL certificate. Both of the two certificates contain multiple or single domains and the domains are easy to use. Wildcards are issued for any type of certificate irrespective the validity.
One-Step Validation
Validation of SSL certificates takes a few minutes and is straightforward in using ZeroSSL. Your configuration process can be sped up by having an automatic CSR-generation. The different domain verification can be done via DNS (CNAME), email or HTTP file upload.
Quick Installation
Instructions on how to install SSL certificates are available online. Therefore you simply download your ZeroSSL certificate file, follow the simple steps for installation, and you're ready to go. Installation couldn't be this easier!
Management Console
ZeroSSL has an intuitive user interface. You can, therefore, take care of your SSL certificates at one place. Your bill management, quick actions, supporting expiration reminders, and more can be done easily in one place.
SSL Monitoring
ZeroSSL runs a series of automated health checks on your SSL certificate keep track of your certificate. It goes beyond the simple certificate expiration warnings enabling certificate monitoring, including connection checks, response body substring lookups, and status and expiration monitors.
ACME Automation
Through ACME integrations you can automatically renew and order our 90-day ZeroSSL certificates. The ACME Certbot dedicates and supports all ZeroSSL ACME integrations.
ZeroSSL Pricing
ZeroSSL pricing can either be yearly or monthly. When you pay yearly, you save 20%. The plans include:
Free
In this plan, no credit card is required. The plan is forever free. Among the packages you get include:
Three 90-Day certificates
Basic
The Basic Plan pricing goes at $10 per month on a monthly basis and $8 per month if billed yearly. Among the packages you get include:
Unlimited 90-Day Certificates
Technical Support
Three 1-Year Certificates
REST API Access
Multi-domain Certificates
Premium
The Premium Plan pricing goes at $10 per month on a monthly basis and $8 per month if billed yearly. Among the packages you get include:
Unlimited 90-Day Certificates
Technical Support
Ten 1-Year Certificates
REST API Access
Multi-domain Certificates
One 1-Year Wildcard
Unlimited 90-Day Wildcards
Business
The Business Plan pricing goes at $50 per month on a monthly basis and $40 per month if billed yearly. Among the packages you get include:
Unlimited 90-Day Certificates
Technical Support
Ten 1-Year Certificates
REST API Access
Multi-domain Certificates
Three 1-Year Wildcards
Unlimited 90-Day Wildcards
Enterprise
The Enterprise Plan pricing is customized according to your needs of contacting support. Among the packages you can customize according to price include:
90-Day Certificates
Technical Support
1-Year Certificates
REST API Access
Multi-domain Certificates
1-Year Wildcards
90-Day Wildcards
Custom solutions
Wrap Up
ZeroSSL sells its SSL certificates at reasonable prices and further it can show your website's ranking on search results. When choosing your ideal SSL purchase you should consider its implications rather than only cost. What do I mean? Consider such factors as trust level type, refund policy, issuance frame time browser compatibility, among others. And as we have seen, ZeroSSL is good to go.